What is a Cenote? The Ultimate Guide to Visiting Cenotes
In the Yucatan Peninsula of Mexico, you will find thousands of cenotes. They are absolutely beautiful and one of the best things to do in this part of Mexico. But what is a cenote exactly?
What causes a cenote and how are they formed? How deep is a cenote and are they all safe? What should I bring when visiting cenotes and avoid?
I will answer all these questions and more in this Ultimate Guide to Visiting Cenotes!
What is a cenote? How is a cenote formed?
A cenote is a natural hole, pool, or cave caused by the collapse of limestone that is then filled with groundwater. That's why cenotes can come in various shapes and it's fun visiting different ones.
The type of cenote you will visit depends on the age of the cenote because all cenotes start as underground caverns.
Over time, the roof of the cave starts to collapse creating openings in the roof allowing light to enter.
After a while, more of the roof collapses until there is a totally open-air cenote which gives you the feeling of sitting next to a (very pretty) pond or pool.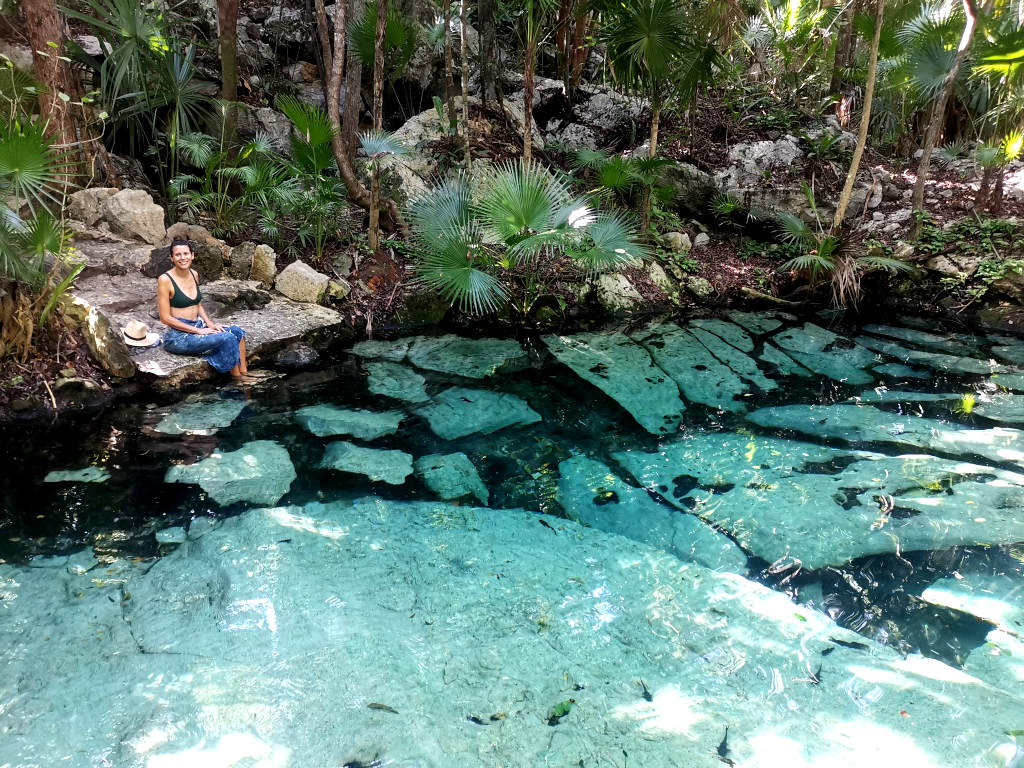 You can enjoy cenotes in Mexico by swimming in an open natural pool, jumping into them from platforms, or exploring their caves by scuba diving or snorkeling.
No matter what you choose, I am sure you will have a lot of fun and feel like Indiana Jones on an expedition.
🗣️ How to pronounce cenote?
The word cenote is pronounced "say-no-ta" and derives from the Mayan word dz'onot which means cavern with water.
🌎 Are cenotes only in Mexico?
Besides Mexico, you can also find cenotes in Australia, Belize, the Caribbean, Canada, the U.S., and Zimbabwe. But cenotes are mostly associated with the Yucatan Peninsula as there are thousands of them there.
This is because the entire Yucatan Peninsula is almost entirely made of limestone. Limestone allows water to pass through so there are almost no rivers or lakes in the Yucatan.
This is one of the reasons why cenotes were so sacred to the Maya as they were usually the only source of freshwater.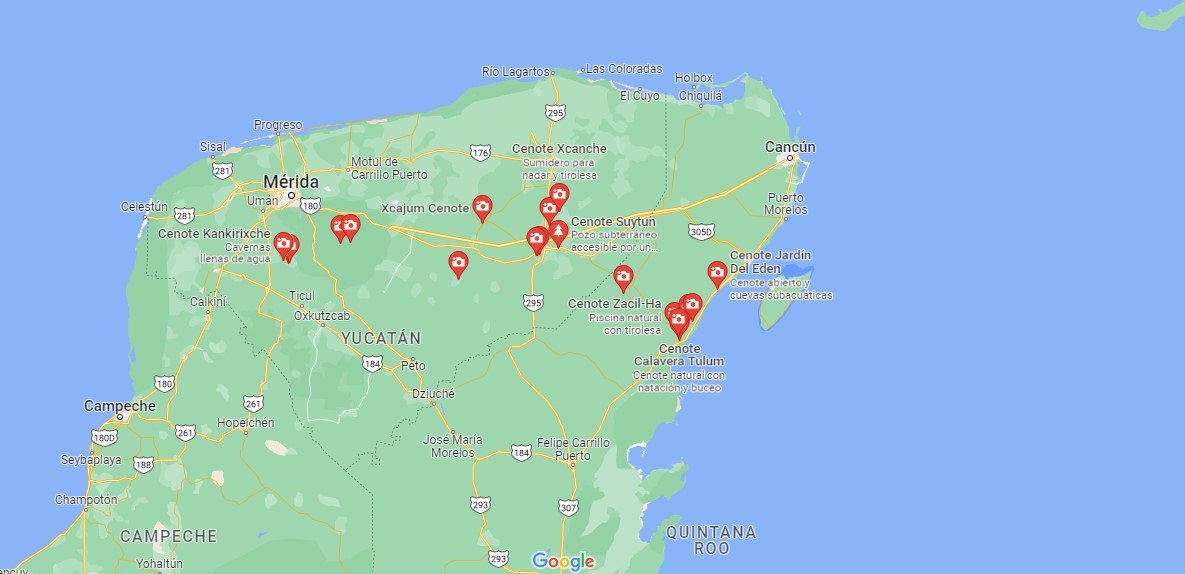 🔢 How many cenotes are there in Mexico?
No exact number has been stated but apparently at least 6.000! If you ever take a flight from Cancun to Mexico City you can see them scattered all through the jungle if you have a window seat.
You will find most cenotes in Mexico in the Yucatan so don't miss out on exploring at least a few of them. Start by visiting the best cenotes between Playa del Carmen and Tulum and in Coba.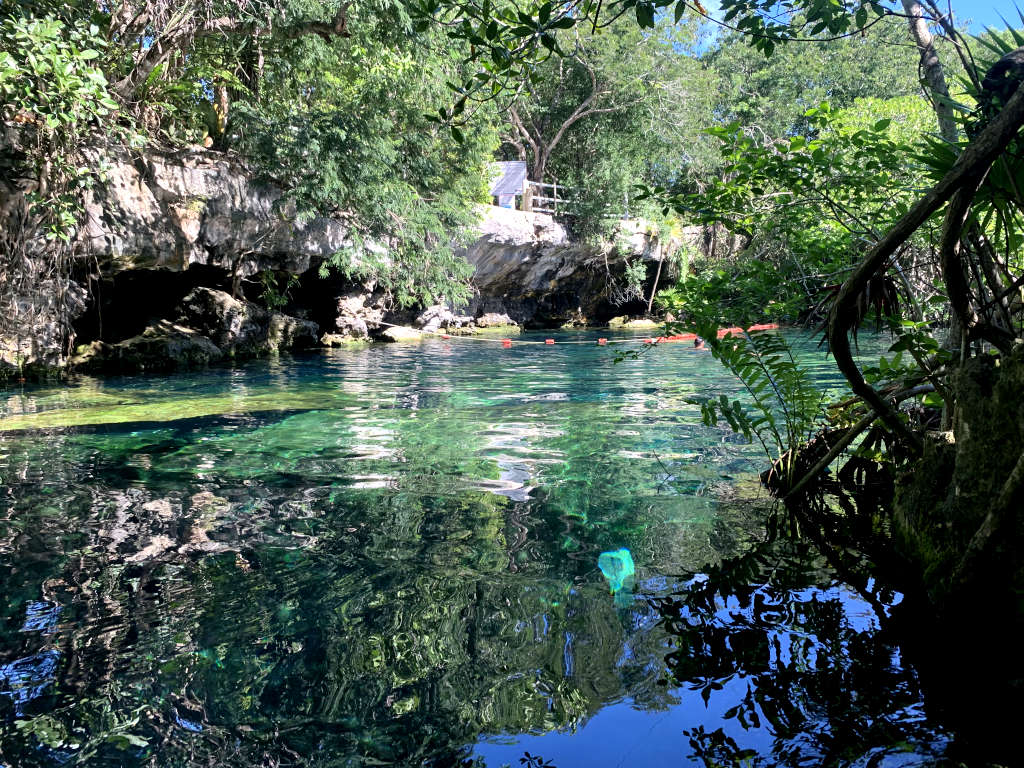 🗡️ Were cenotes used for sacrifices?
Mexican cenotes were used for human and animal sacrifices by the Mayans. But since the Mayas also used cenotes for groundwater supply they would use them dedicated to either of the two purposes.
Sacrifices were made for the gods the Maya believed in to receive good harvests, protection, or rain. The Mayans believed cenotes to be the entrance to Xibalba, meaning the underworld, where the Mayan gods visited. Cenotes were therefore very important places for the Mayans and their culture.
One of the alternate names of Cenote Sac Actun (which is an awesome cenote to visit near Tulum) is Cenote Pet Cemetary. This is because lots of animal bones were found in the caves there.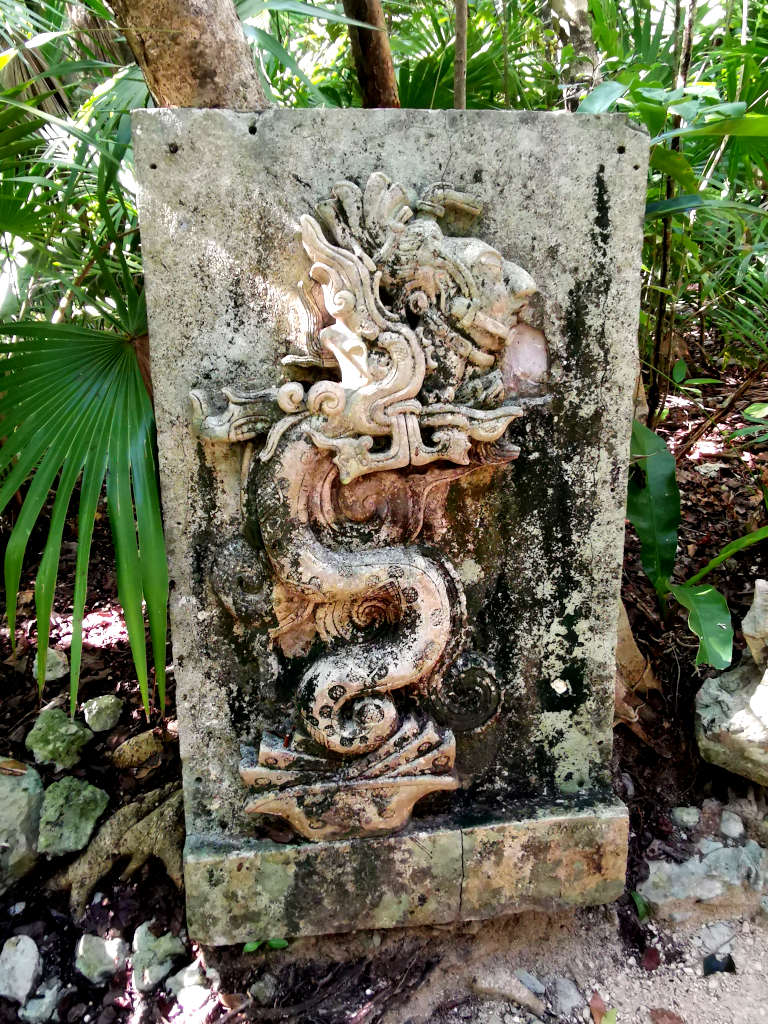 💧Where does cenote water come from? Are cenotes clean?
Cenotes in Mexico are basically underground rivers in the Yucatan. They are filled with rainwater that is filtered through limestone.
Cenote water in the Riviera Maya is therefore very clean and was used by the Mayans as a natural water supply. That's why you will often find cenotes in or around Mayan ruins, such as in Coba.
🚰 Can you drink cenote water?
Not anymore. Cenotes used to be drinking water sources for the Mayans but that was a long time ago.
Now due to water and air pollution and people swimming in cenotes, it is not advised and not safe to drink cenote water. With filtration systems, it can be converted into drinking water.
💦 Why is cenote water blue?
All the water in cenotes is rainwater that is filtered through limestone. The filtration can occur because limestone is a porous rock meaning it allows water to pass through it. This process is very slow.
However, as the water passes through the rock impurities are trapped in the limestone. This results in amazingly clear water that often has a blue color.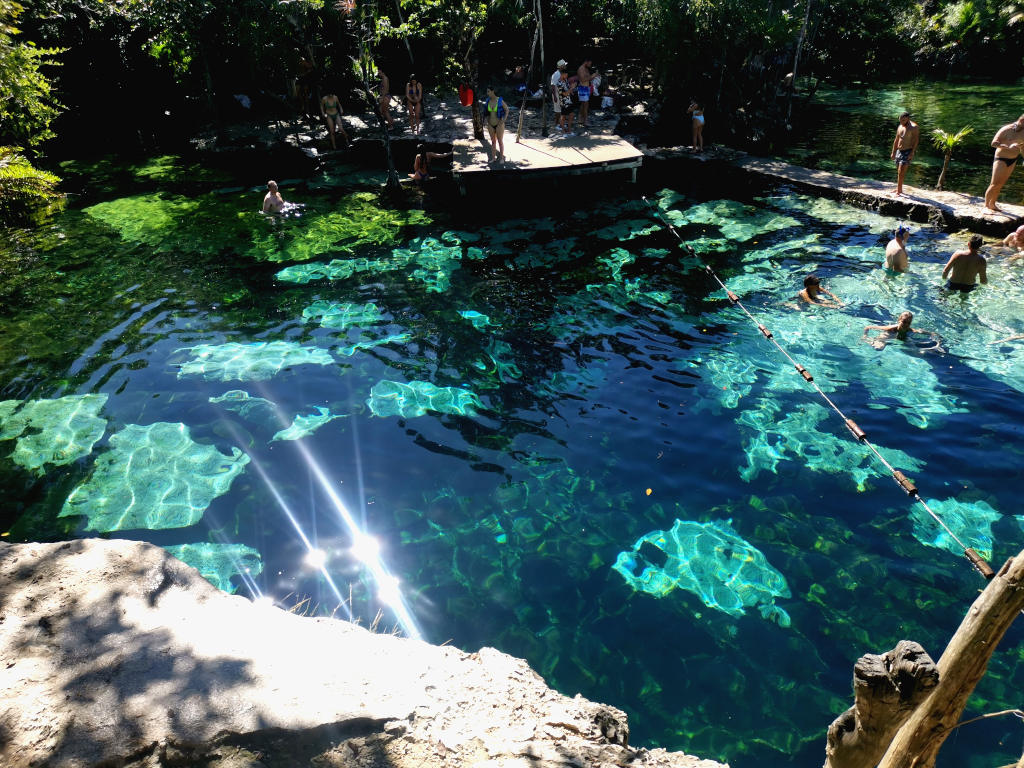 🌡️ Are cenotes cold?
The water in Mexican cenotes is usually around 24°C (75°F) which is a perfect water temperature to cool off during the hot days in Mexico's Yucatan.
Nevertheless, I suggest bringing a quick-dry towel or light sweater to dry or warm up, especially if you have been snorkeling or diving in cenotes for a long time.
Lots of the cenotes are surrounded by trees which is nice but it also means it can be hard to find sun to warm up after swimming.
⬇️ How deep is a cenote?
Cenotes are usually deep as they often have underwater caves or tunnels connected to them. How deep varies per cenote you will visit.
On average cenotes in Mexico are up to 15 meters (50 ft) deep and therefore often perfect for scuba diving with an open-water license. Cenote El Pit is the deepest in Quintana Roo at 119 meters (390ft)!
Archeologists have found many different Mayan remains at the bottom of cenotes such as human bones, jewelry, pottery, and gold which made it possible for them to learn more about the use of cenotes in Mayan culture.
🐊 Are cenotes dangerous?
No. Cenotes in Mexico are very safe to swim in as there are like swimming pools without waves, boats, or dangerous wildlife such as big crocodiles or sharks.
At every Mexican cenote, you can get a life jacket for rent or for free. If you come with goggles you can also better see where you are stepping. Most cenotes also have a shallow part you can sit in and enjoy watching fish.
There is one cenote I know of with a crocodile, Casa Cenote near Tulum, that actually advertises having a crocodile you can swim with. Allan went and said it was totally harmless but definitely a thrill!
🐠 Is there wildlife in cenotes?
Yes! Most cenotes in Mexico have a lot of different kinds of fish, such as catfish. There is also a lot of wildlife around the cenotes as they are naturally surrounded by trees and jungle.
At Gran Cenote in Tulum, you can also see many small turtles and snorkel with them. At Casa Cenote near Tulum, you can see a crocodile.
We saw a lot of big cool looking iguanas and blue birds. So keep your eyes open and enjoy the natural beauty!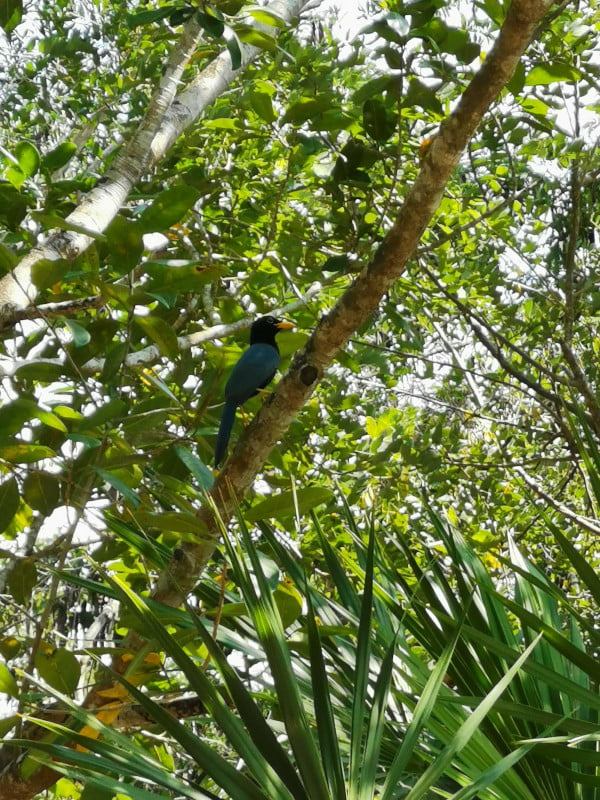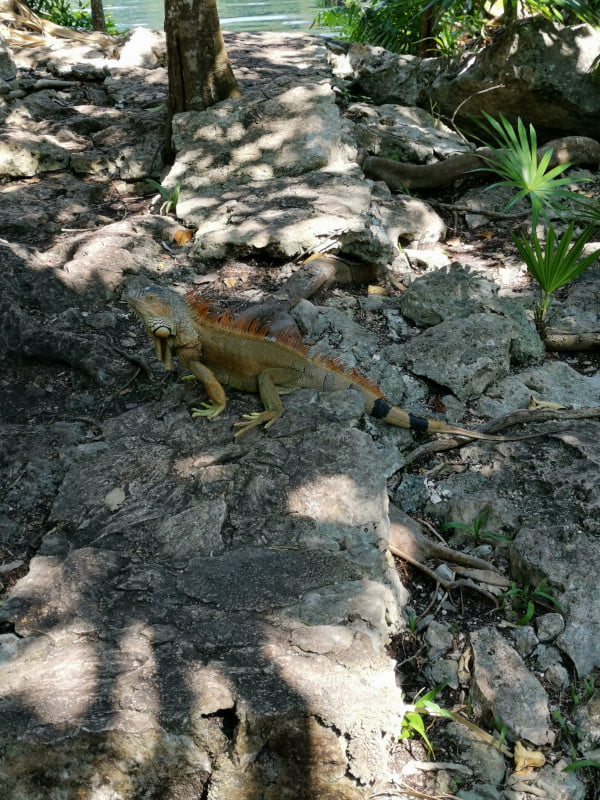 💰 Who owns cenotes?
Cenotes in Mexico are privately owned and on private property. That's why the entrance fees, opening hours, and services differ from cenote to cenote.
The owners, often Mayan families, decide how to run the cenote. That's why it's good to check what's included and what to expect before going.
🏆 Which cenote is the best?
While this comes down to personal preference, there are definitely some cenotes that are heavily visited in the Mexican Yucatan Peninsula for good reason.
It also depends on what kind of cenotes you prefer – a cave, a big open-air pool, or little cenote pools scattered in the jungle. To help you get started read the two blog posts linked below: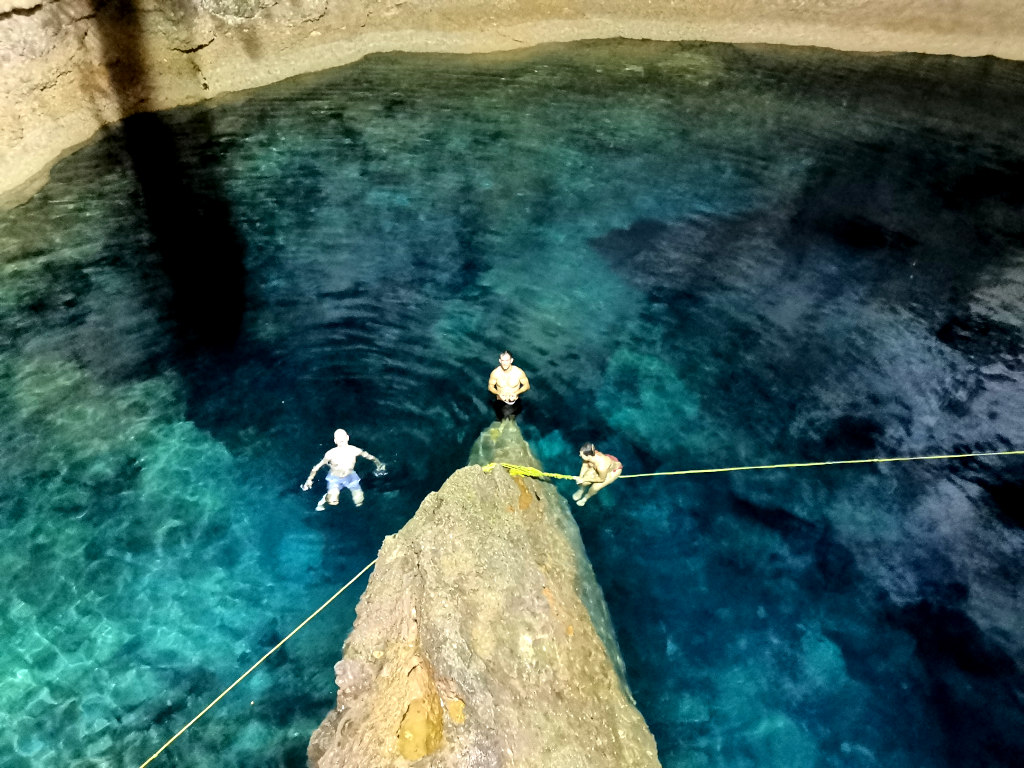 Top Tips for Visting Cenotes
Now that we know what cenotes are, let's dive into my top tips for visiting cenotes to get the best out of your trip!
⏰ Come early and avoid weekends
Most of the cenotes in Mexico open around 8:30 am and most people will not arrive before 10 am. So beat the crowds and come as early as possible and during the week if you want the place quieter and take pictures without people.
The peak time of visitors is at noon so you could also come in the afternoon to avoid them. But the color of the water won't look as good due to the position of the sun and most cenotes close around 5 pm. Therefore I recommend being an early bird.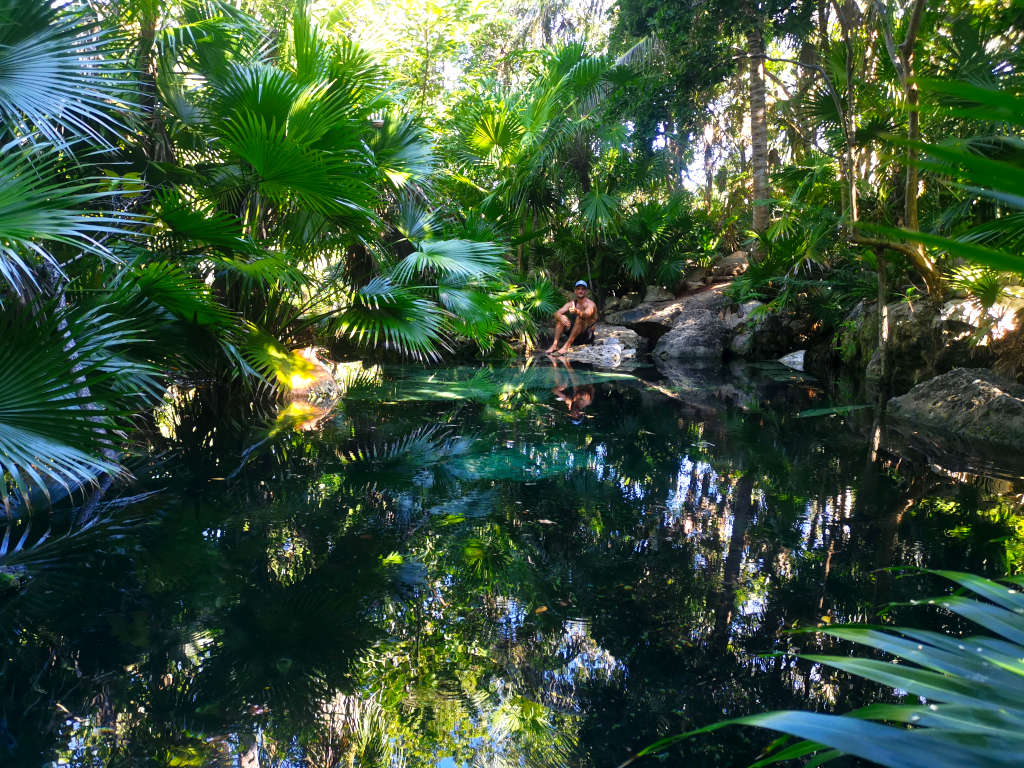 🥽 Bring or rent a snorkel or goggles
Your experience will be so much better if you can see all the fish, cave formations, and amazing light reflections underwater. We travel with one pair of simple goggles from Nike which are lightweight and perfect for those occasions. Otherwise, a snorkel set would be perfect to have!
📸 Bring a GoPro or waterproof phone case
We had a lot of fun getting underwater shots with a simple waterproof phone case you can buy at most cenotes or in Playa del Carmen for around 100 pesos (5 USD) which fit every phone and work! Or if you have a GoPro that's of course the best way to go.
👚 Bring a towel or sweater
This might sound funny as it is super hot on the Mexican coast but you might cool down a lot by swimming, snorkeling, or scuba diving in the cenotes or by exploring the caves.
Due to the natural setting of the cenotes covered in trees, there won't be much sun to warm up. So I recommend bringing a quick-try towel or light sweater just in case.
🍽️ Bring snacks and water
Unlike many other Mexican tourist sites, no food is sold at Cenotes. Sometimes you can get sodas and chips but since they are really unhealthy and not real food I recommend bringing your own picnic and reusuable waterbottle.
All cenotes have designated areas for eating with tables and seats in the shade. So enjoy your food in an amazing natural setting.
Read also: How to eat healthy and cheap while traveling
🛟 Get a life jacket if needed
At most cenotes in Mexico, life jackets are provided either for a small fee (50 pesos, 2.5 USD) to rent or for free. If you go with a guide into caves you will get them automatically included in the ticket price.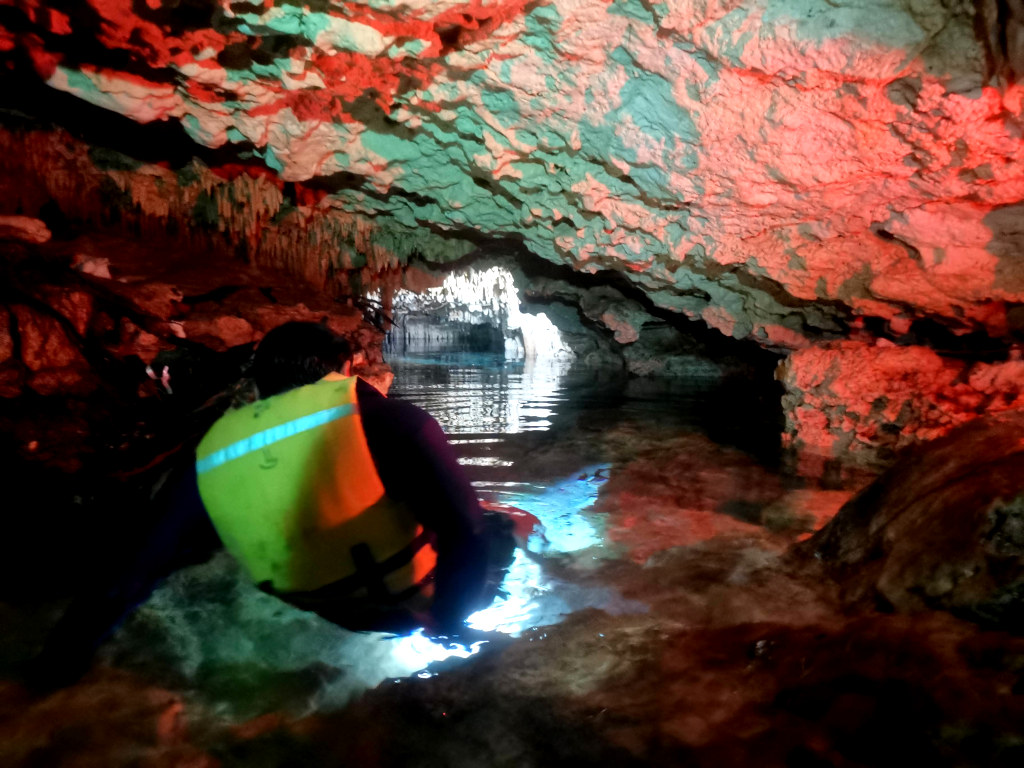 🚫 Don't use sunblock, creams or mosquito repellent
In all cenotes sunblock, creams, or mosquito repellent is not allowed as it harms the ecosystem of the cenote. Also, biodegradable sunblock is prohibited. To enter as clean as possible you have to shower before entering.
As most cenotes are having plenty of shade from the trees around or are caves you also don't need to worry too much about getting a sunburn. Surprisingly we also have not encountered any mosquitos at any cenotes we have visited.
🚫 Don't bring too many valuables
We never had an issue or heard from anyone having things stolen but it's always good to only bring what you really need.
Keep an eye on your belongings or lock them in your car or in the paid lockers some cenotes in the Yucatan provide.
🤿 Be aware of snorkelers and divers
In most of the cenotes in Mexico it is allowed to snorkel and scuba dive with guides. Therefore you will often see groups of divers and snorkelers in the water.
There is plenty of space but it's good to be aware of them and respectful when entering or exiting the water and most importantly when jumping into cenotes from platforms. You will see signs where to watch out for them.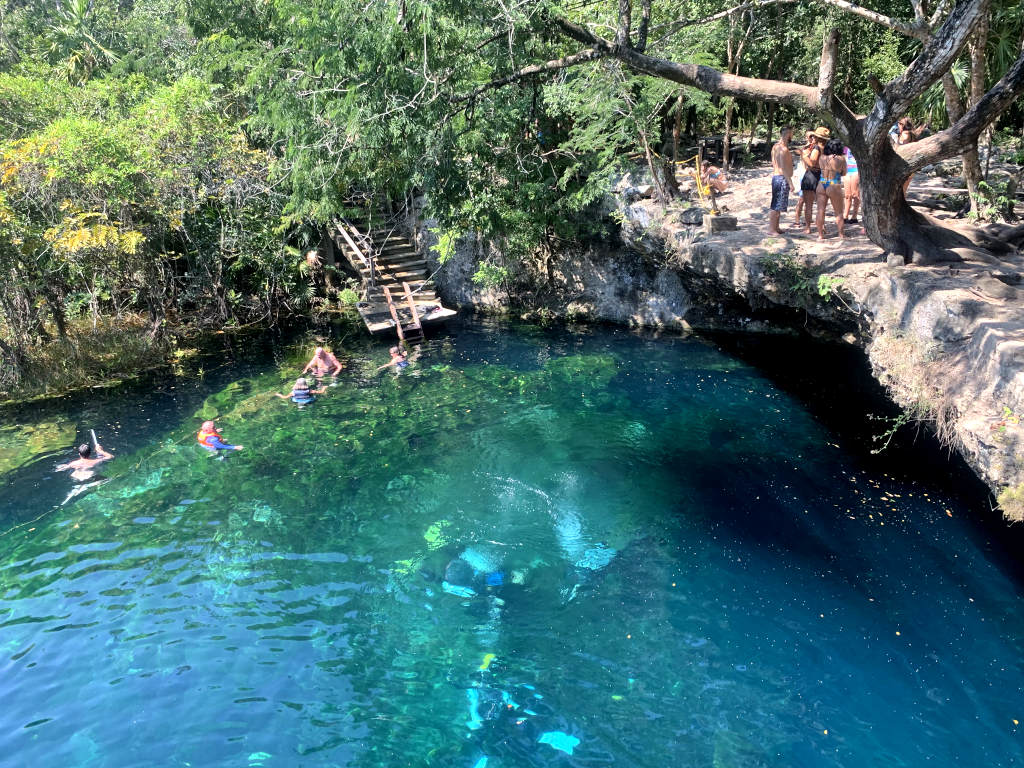 🎟️ Bring cash for your entrance ticket
Always bring cash (Mexican pesos) with you when visiting cenotes. There are no card machines or ATMs at the entrance to cenotes, often you don't even have a phone signal. Paying in foreign currencies such as US dollars are also not accepted.
The entrance fees for cenotes vary quite a bit ranging from 150 to 1500 pesos (8 to 80 USD) in the Yucatan peninsula. Some cenotes offer discounts for locals if you can show your ID and discounts for children below the age of 12.
Depending on what the cenote has to offer different things may be included in the entrance fee. So it's always good to check beforehand you go.
🚗 There is plenty of parking
If you come by rental car most cenotes in Mexico have a big parking lot and plenty of space especially when you avoid peak times. All the cenotes we have been at offered free parking included in the entrance fee.
🚐 Come by colectivo
If you don't have a rental car avoid pricy cab rides and travel cheaply like a local with colectivos. They are fast, safe, fun, and super cheap.
A 30-minute colectivo ride from Playa del Carmen to Cenote Azul for example is only 35 pesos (2 USD) one-way. They depart when full but we never had to wait longer than 5 minutes.
Read also: How to get to the best cenotes by colectivo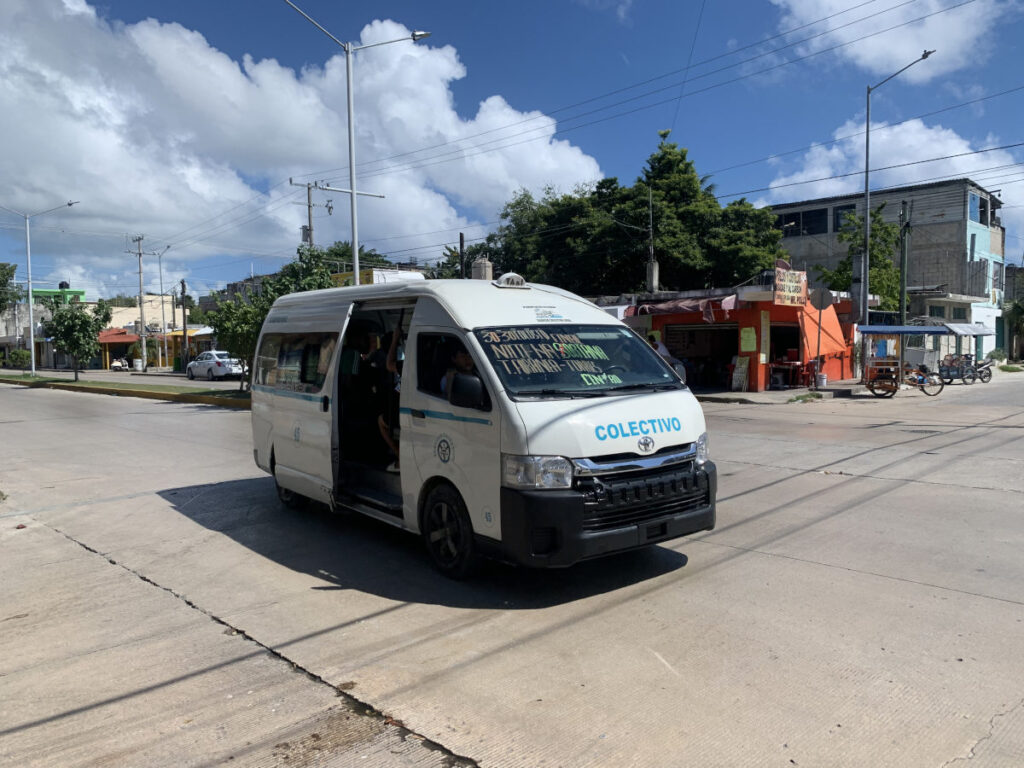 🌿 Respect nature and avoid littering
Cenotes are an amazing natural ecosystem and home to many fish, birds, and plant species. Some cenotes even host crocodiles and turtles you can swim with.
So let's be mindful and make sure we don't trash the places so we don't destroy nature and can enjoy these beautiful places.
🐶 No pets allowed
While they may be some expectations throughout Mexico it is generally not allowed to bring dogs into cenotes in the Yucatan so our furry friends have to stay at home.
Read also: Look after a pet in Mexico in exchange for free accommodation
👪 Cenotes are kid-friendly
Mexicans love bringing their whole family to cenotes, especially on Sundays. That's why it's best to avoid Sundays or come early if you want a more quiet experience or fewer people in your pictures.
While we have not seen many kids on our visits they are definitely allowed to enter and pay less until 12 years old. Here are some great cenotes to visit with kids.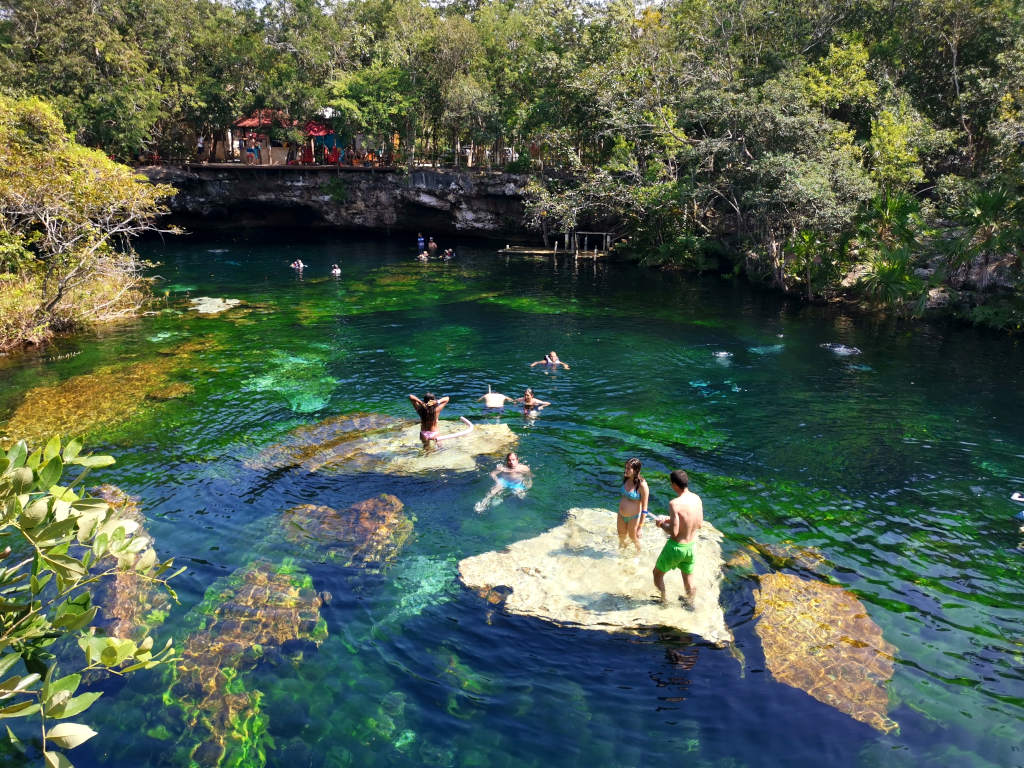 Now you know what a cenote is and how to visit them!
This brings us to the end of what a cenote is and everything you should know before visiting cenotes in Mexico. I hope you found the tips helpful and enjoy exploring cenotes as much as we did.
Let me know in the comments below if you learned something new or have more tips to add!
READ ALSO
Hey there! Some of the links on this page are affiliate links. This means that if you choose to make a purchase we may get a small commission at no extra cost to you. These commissions help us to generate income and keep creating content for you. So we greatly appreciate your support! Thanks!