Angangueo – Stay In The Home Of The Monarch Butterfly
Mineral de Angangueo is a pretty little old mining town located in the hills of Mexico's Michoacán. The town was originally founded because of minerals that were discovered in the area.
Today mining has mostly stopped and Angangueo is mainly known due to its location next to the Monarch Butterfly Biosphere Reserve. Most people will stop in town simply on their way to the butterfly sanctuaries.
This is fair enough as the monarch butterfly sanctuaries are the most amazing things I have seen in Mexico! But Angangueo is a nice little town and is worth it to stay for a couple of nights while you go see the butterflies.
So keep reading to find out all you need to know about visiting and things to do in Angangueo! 🦋
Angangueo Pronunciation
We had a little trouble with the pronunciation of Angangueo in the beginning, but when you imagine it without the 'u' it's actually pretty easy: 'Angangeo'.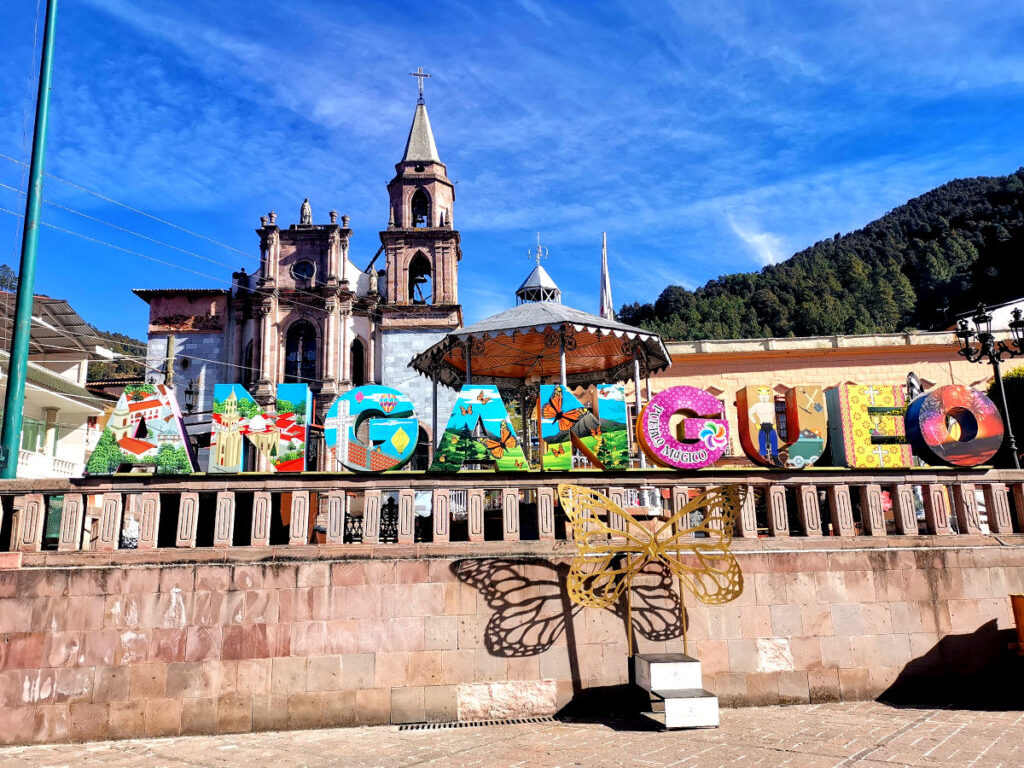 Angangueo On The Map
Angangueo, officially called Mineral de Angangueo, is located in the state of Michoacán in Central Mexico. The closest biggest cities are Toluca and Mexico City,
How To Get To Angangueo From Mexico City
🚗 The best way to arrive in Angangueo Michioacán is to rent a car or catch the bus from Mexico City. The drive is around 190 km long and will take you about 2.5 hours to drive by car.
🚍 Alternatively, you can catch the Zina bus for 275 pesos (15 USD) one-way. You can book tickets online and the journey takes around 3 hours. The bus leaves from the western bus station in Mexico City which is called Poniente and can be easily reached by Uber or Metro.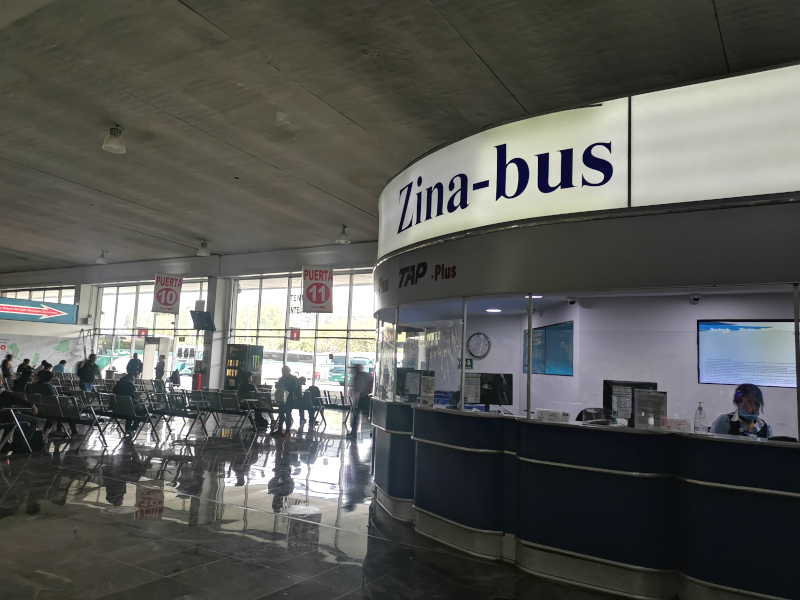 5 Top Things To Do In Angangueo
Mineral de Angangueo is a tiny town and has a very laid-back countryside atmosphere. People are very friendly, so it is a nice place to go wandering around. Below I have listed a few things to do in Angangueo that are really worth seeing.
1. Visit The Monarch Butterfly Sanctuaries 🦋
The number one reason most people are visiting Angangueo Michoacán is to see the Monarch Butterflies. The Monarch Butterflies start arriving in November and stay until March with the peak season being in January and February.
Angangueo is perfectly located between two of the main sanctuaries which are El Rosario and Sierra Chincua. It takes about 25 minutes to drive from Angangueo to either sanctuary.
Read the in-depth guides:
2. Check Out The Amazing Butterfly Murals 🦋
Close to the main square of Angangueo is a beautiful art walk full of murals in a narrow alleyway. You will see amazing paintings on the walls and on the ground telling the history of Anganguo Michoacán and its butterflies.
These murals were created by the artist Jorge Tellez. They are split into 6 different parts and there are many details hidden throughout them. So have a close look when you are there and don't skip reading the history of Angangueo later on.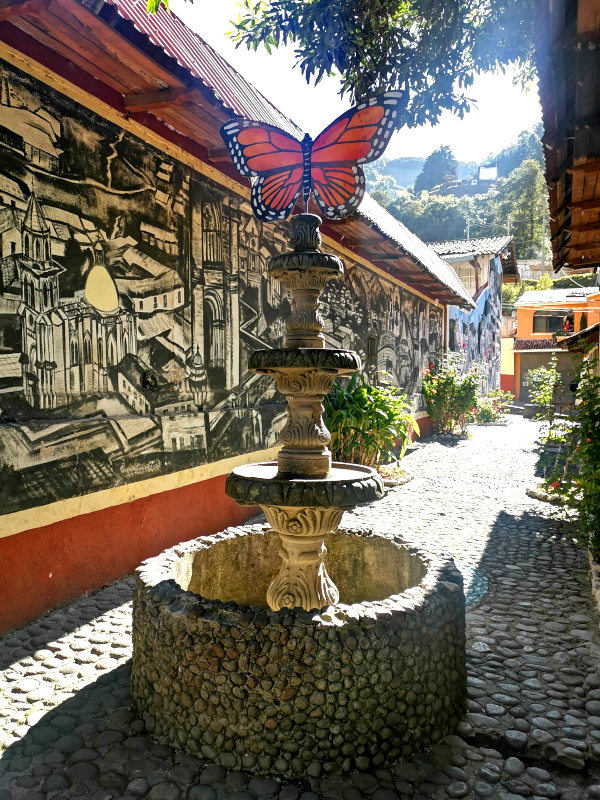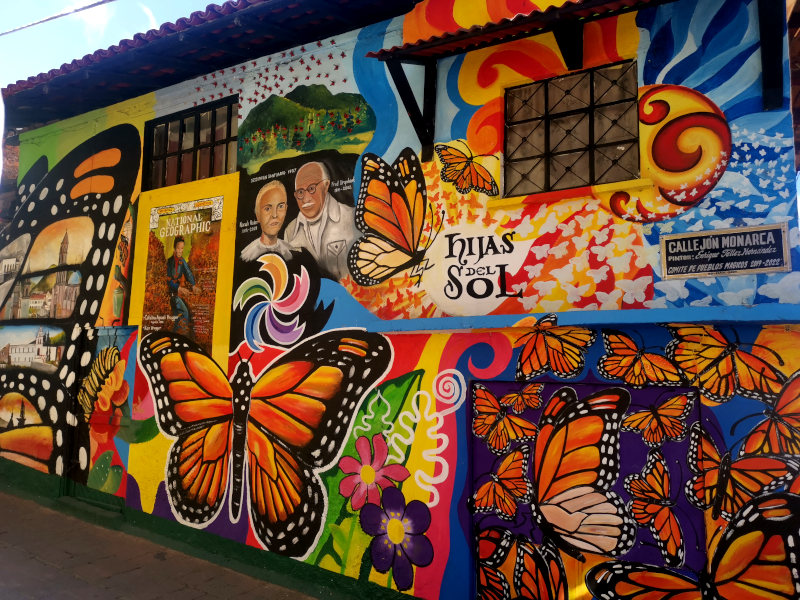 3. Go To The Miners Monument For A Great View ⛏️
As Mineral de Angangueo was founded due to mining there is a monument in town dedicated to the miners who have worked here. The monument itself is not that impressive but there is a great view over town that is worth seeing.
It is a nice spot to spend a few minutes admiring the view and it is only a short walk from the main square and the art walk.
There is also an interesting piece of art that shows two Mexican migrants looking through a fence at each other. The art represents all of the Mexican migrants who have moved to the US and had to leave their families behind.
The Monarch butterflies are on top of the US-Mexican wall migrating every year from Canada and the US to Mexico for winter. Not knowing any borders… food for thought!
4. Visit Angangueo's Main Square ⛪
The central square in Angangueo is a nice place to go take a photo with the Angangueo letters. But there are also a couple of nice churches to check out and some restaurants, cafes and a market.
The two churches at the main square are the Inmaculada Concepción Church, made of pink stone, and the San Simon Church which is blue. The pink one was built by the owners of mines during the 18th century.
An interesting fact is that during the 18th century, the mine owners and their families visited the pink church. While the miners and their families had to visit the blue church.
A Glimpse Into Angangueo's History
Mineral de Angangueo was founded in 1792 after a large mineral deposit was found nearby. Like many other towns in Mexico that mined silver, this bought wealth and a lot of migrants to the area.
Unfortunately, the mines nearby started to run out of minerals in the 20th century and most of them were shut down. This caused the economy of Angangueo Michoacán to suffer and many people left the area. In 1987 the population of Angangueo was 18,000 but today it is only 5,000.
Due to the closure of the mines most people turned to agriculture and forestry to make money in the region. Much of the logging done in the region is however illegal and is limiting the habitat of the monarch butterflies.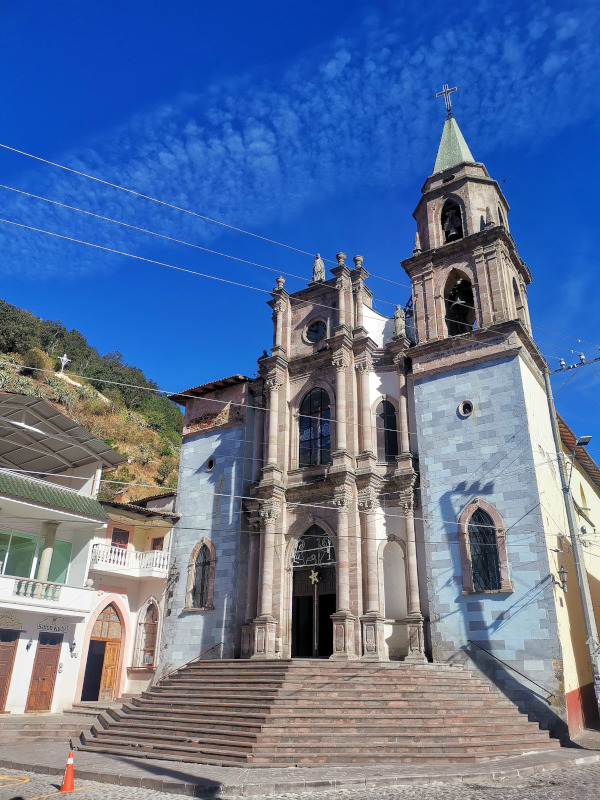 In 2011 Angangueo suffered from landslides that were caused by heavy rain. The landslides killed 30 people and about 1,000 people were made homeless.
The damage to Angangueo was so severe that the local government even considered moving the entire town to a new location. But this idea was very unpopular with locals and the town residents have been able to keep their town.
However, experts believe that the town is still at risk from landslides. This is particularly because of deforestation from the illegal logging that takes place within the protected monarch butterfly biosphere.
Let's Jump To Angangueo Today
Today about a quarter of the economy in the area relies on tourism from the butterflies. So hopefully the money that tourism brings in is enough to halt illegal logging and ensure the survival of the butterflies for future generations.
One way that you can help is to stay in Angangueo for a couple of days and contribute to the local economy. Instead of doing day trips to the sanctuaries from nearby cities such as Mexico City 💛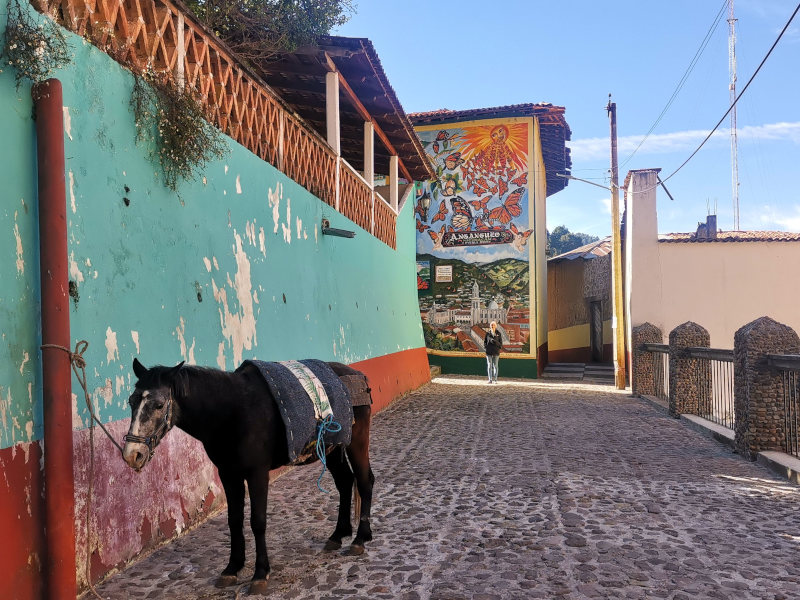 Where To Stay In Angangueo
As the town relies on tourists there are a few Airbnbs and hotels in Mineral de Angangueo. But there are not a lot of options so you may want to book well in advance, especially if you want to visit on weekends or holidays.
Angangueo Hotels 🛏️
There are a few hotels in Angangeo but we couldn't really find one that stood out to us. Some you can also not book online. We also like being able to prepare a meal, so I recommend having a look at Airbnb as there are some good options for different budgets.
Angangueo Airbnb 🏡
If you are traveling on a budget as we do, I recommend the Airbnb that we stayed at. Our Airbnb was a cozy little house located on a hill outside of town with a nice view. It only cost us about 300 pesos / 15 USD a night and had two bedrooms and a kitchen.
It was about a 30-minute walk uphill out of town so you would need to take a taxi or be willing to walk. When we arrived the Airbnb hosts took us for free in a taxi to the house. The other days we walked and truly enjoyed it.
You can book this Airbnb in Angangueo here.
How Long To Stay In Angangueo
We stayed for 3 nights which gave us enough time to visit two monarch butterfly sanctuaries, enjoy Angangueo and our Airbnb on the hill. If you only have time for one sanctuary I recommend staying at least 1 night.
Angangueo Weather and Altitude
Angangueo Michoacán is located 2560m above sea level which means that it gets pretty cold at night. During the day the sun comes out but the temperature rapidly drops once the sun goes down.
So make sure to bring some warm clothes and layers. Because you may find that your accommodation gets quite cold in the evenings.
We also found that our lips became dry and cracked due to the altitude and dry air quickly. So I would recommend that you bring some chapstick with you.
Is Angangueo Safe?
Yes, despite Michoacán's bad reputation Angangueo is very safe to visit and stay in! People are very friendly and helped us figure out transportation without taking advantage of us being tourists.
We actually felt extremely welcomed there. We even got a lift to El Rosario butterfly sanctuary while waiting for a public van to depart from a local who went that way. It was so nice that we also went to the second sanctuary the next day together.
We are truly grateful for this experience and the kindness we have witnessed. Carmelo left us with the words "Now you have a friend in Angangueo and next time you come you will stay at my place!" This is what makes traveling so rewarding and we will never forget seeing the butterflies with our new friend!
Is Angangueo Worth Visiting?
Yes! Angangueo is for sure worth visiting. Many people do day trips from Mexico City to the butterfly sanctuaries in organized tours. This means getting up super early and spending about 5 hours in a car that day missing out on all the top things to do in Angangueo we described above.
If you are short on time that's of course totally okay to do. But if you have an extra night to spare it's really worth checking out all the art, history, rustic charm, and friendliness Angangueo has to offer. Plus, it's easy and cheap to get to from Mexico City by direct bus.
Now You Know Everything About Angangueo
Mineral de Angangueo is a pretty little town with a lot of character and a few unique things to do. If you can, stay there for a night or two to support the local economy, enjoy the town and have the chance of making new friends.
And of course, witness the great Monarch Butterfly migration! If you have any questions about Angangueo, feel free to leave me a comment below this post and I will get back to you as soon as I can.
READ ALSO