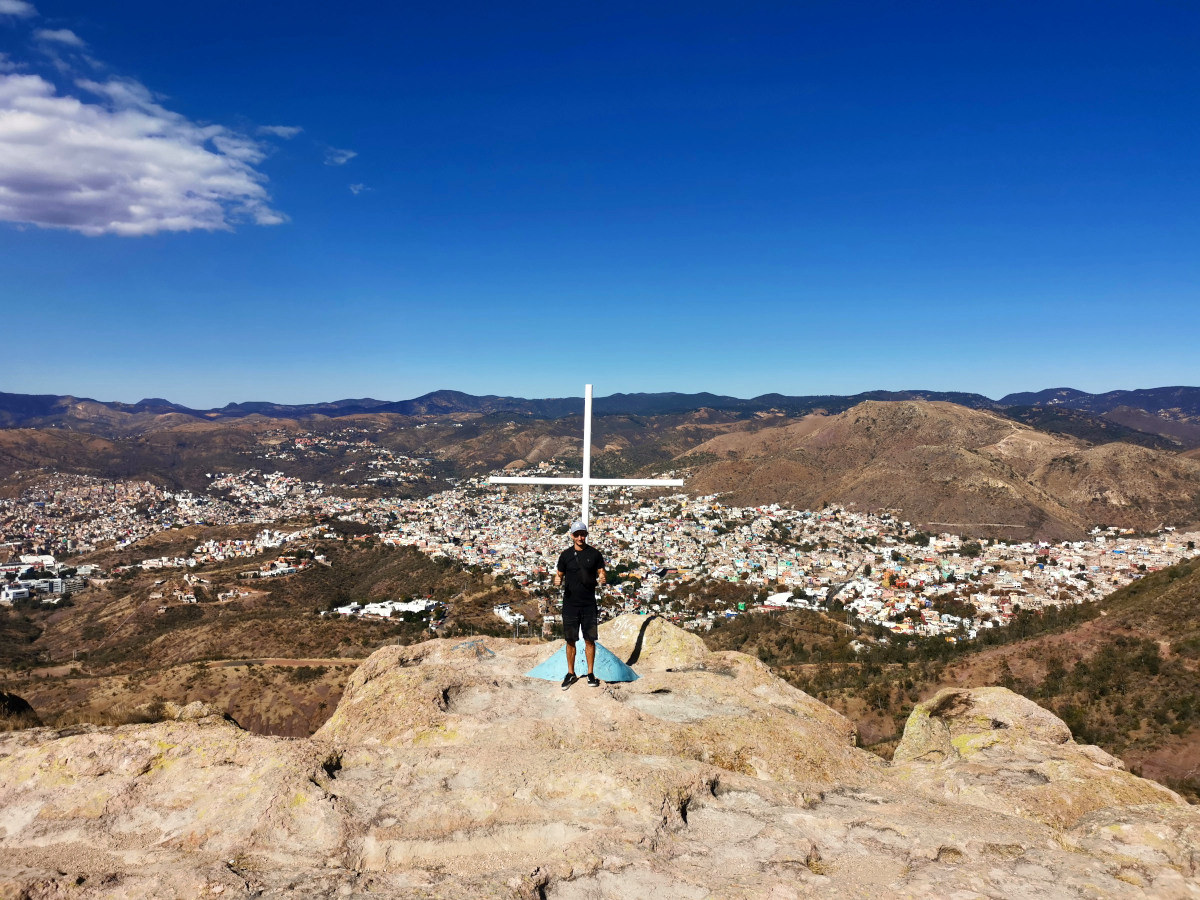 La Bufa Guanajuato – An Awesome Day Hike (Complete Guide)
Guanajuato is mostly known for its beautiful colonial buildings and colorful alleyways. But because of its location in a deep valley, there are also many great hikes nearby. My favorite is El Cerro de la Bufa Guanajuato which is the most popular trail in town and a must-do in Guanajuato.
The hike will take you to a rocky mountain top high above town that will give you a bird's eye view of the city. Another great thing about the hike is, that there are hardly any other people on the trail. So you will most likely have the top all to yourself when you arrive.
So keep reading to find out all you need to know about hiking El Cerro de la Bufa in Guanajuato!
Important Things To Know About Hiking La Bufa
Hike Time ⏱️
Around 2 hours round trip from the starting point covering a total distance of 7 kilometers or 4 miles. It is very steep at points with some scrambling over rocks. So a reasonable level of fitness is required.
What To Wear 👟
There are lots of loose rocks in certain parts so wear comfortable stable shoes. Guanajuato is generally quite warm so it shouldn't get too cold on the hike.
What To Bring ☀️
The hike is exposed to the sun for large sections so make sure to bring sunblock, a hat and plenty of water. It's also always nice to bring a light snack, such as peanuts or fruits you can enjoy as a reward at the top. And don't forget your camera or Gopro if you have one.
The paths are clear and easy to find and follow. Make sure to mark the starting point of the hike on Google Maps or Maps.me (see below). If you like you can save this page as a PDF or offline on your phone to have it in your hands during the hike.
La Bufa Hike Starting Point
To get to the starting point of the La Bufa hike you have two options. You can either walk there from the city center or catch an Uber , DiDi or taxi to the starting point. There is no public transport going up that way we know of.
On Google Maps you will find the starting point if you search for "La Bufa Climb".
📍 Save the starting point on your map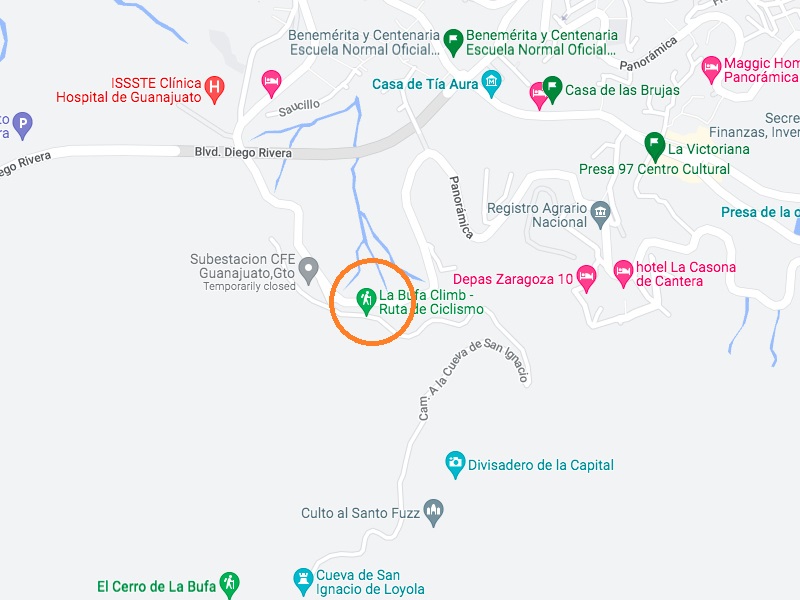 By Foot
You can walk up to the starting point of the hike from the city center. But be aware that the streets going up the sides of the valley are steep and next to a busy road with cars without a designated footpath or only a narrow one.
So you will be a bit tired before the hike even starts and it's not the most pleasant walk. But if you feel like some extra exercise or saving money on a car ride then go for it.
We hiked La Bufa twice and walked once up to and down from the starting point and once we took Ubers both ways. You could also consider a combination, taking a car up and walking down from the starting point or vice versa.
By Car, Uber, DiDi Or Taxi
You may have trouble catching an Uber or DiDi in Guanajuato as there are not many available. We had to wait 20 minutes to get an Uber to take us up to the starting point. But only 5 minutes to catch one down. So it will depend on the availability.
Taxis are everywhere in town and might be faster to catch up to the starting point than Uber or DiDi but you will need to negotiate the price. You most likely won't see them on the way down so only count on them on the way up.
Depending on the availability and where you are located in town a taxi, Uber or DiDi ride should cost about 80-120 pesos (4-6 USD) one-way.
🚗 If you have your own rental car you can take the same route and park your car for free at the starting point. Search for rental cars in Mexico here.
What The Starting Point Looks Like
Whether you catch a taxi or walk up to the starting point you will need to look for a power station at the side of the road. Next to the power station, you will see a gravel road going up the hill and this is the start of the hike.
Starting The La Bufa Guanajuato Hike
Once you arrive at the power station you will see a road on the left-hand side leading up to a steep hill. You need to follow the gravel road which will get very steep quickly. Be careful here as this part can be quite slippery due to a lot of little loose rocks.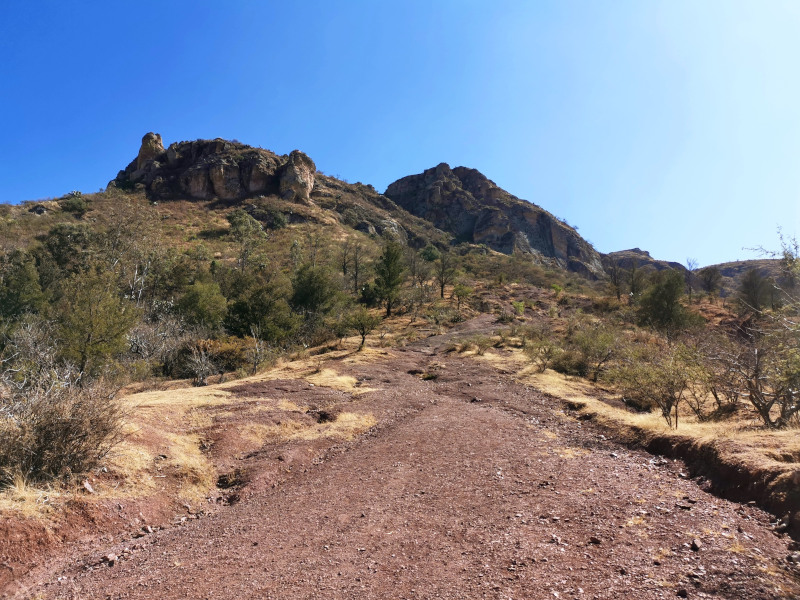 You will have to walk up the steep slippery part of the path for a part of 10 minutes. Then you will see a path that takes you to a road that snakes its way across the mountain.
You will need to follow this road for about another 15 minutes until you reach a cave called Cueva de San Ignacio de Loyola.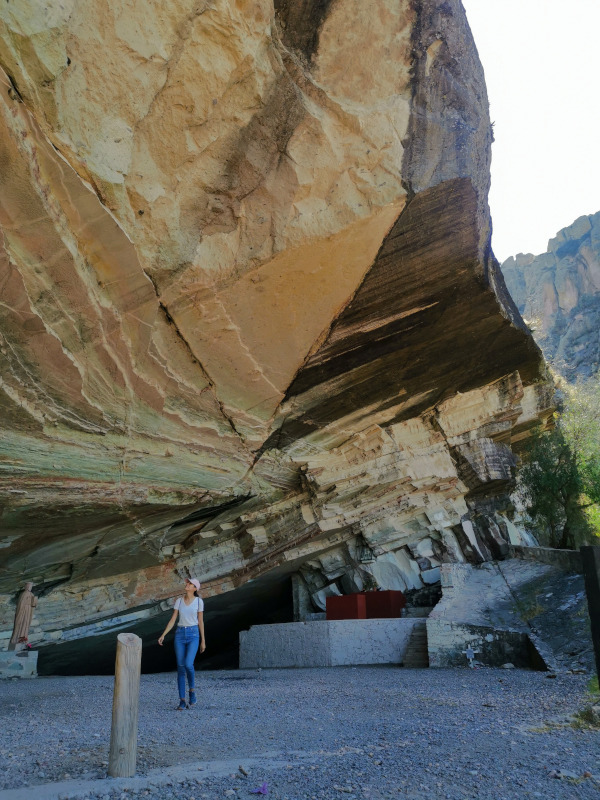 The Cueva De San Ignacio de Loyola is an important religious pilgrimage point for locals. Every 31st of July locals come up to the cave with food, music and fireworks. It is a very interesting cave and is worth spending a few minutes checking out.
Climbing La Bufa
After the cave, you will go under some large rocks and then you will see some stairs going up the side of the rock. Take the stairs and don't follow the path to the right.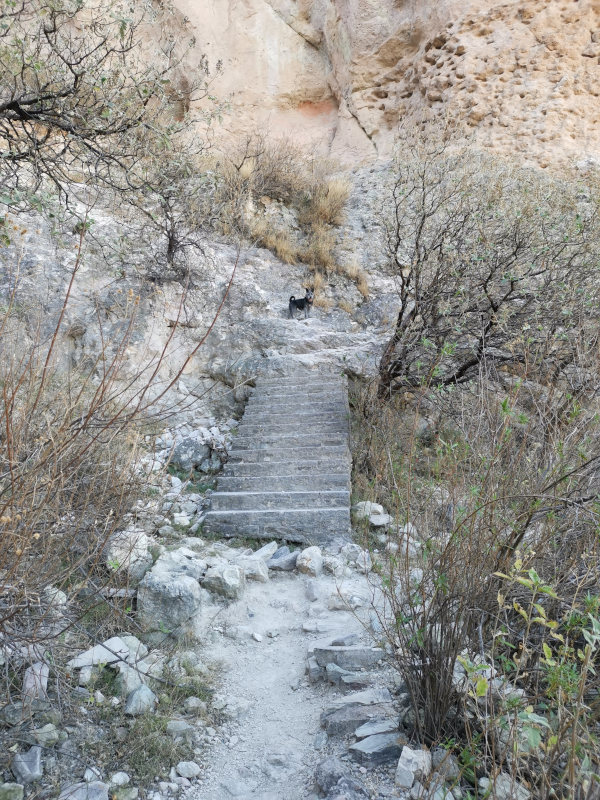 After the stairs there will be a little ledge with some metal hand holds attached to the rocks to help you make your way across.
You will then have a steep rocky section to make your way up. We saw a few people really struggling with this section as it can be difficult if you are out of shape. But as long as you are reasonably fit it should be no problem.
It will probably take you around 15 minutes to get to the top where you will have great views of the rock formations on the other side.
This part of the hike is not the summit but in my opinion, has some of the best views. If you walk to your right there are also some cool rock formations around that side to check out.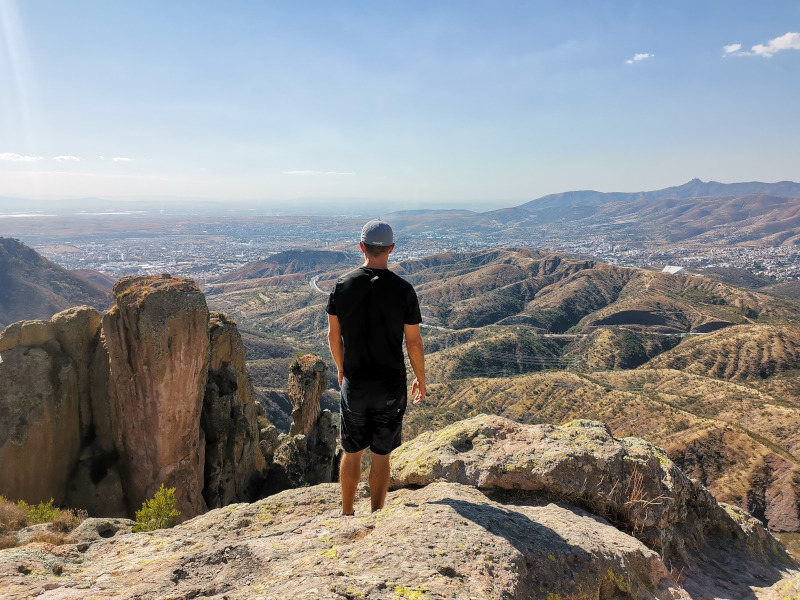 Reaching The Summit
To make your way to the summit of El Cerro de la Bufa Guanajuato you will need to look for some stairs carved into the rocks. This will take you up to the rocky top of La Bufa where you will have to make your way across to the white cross.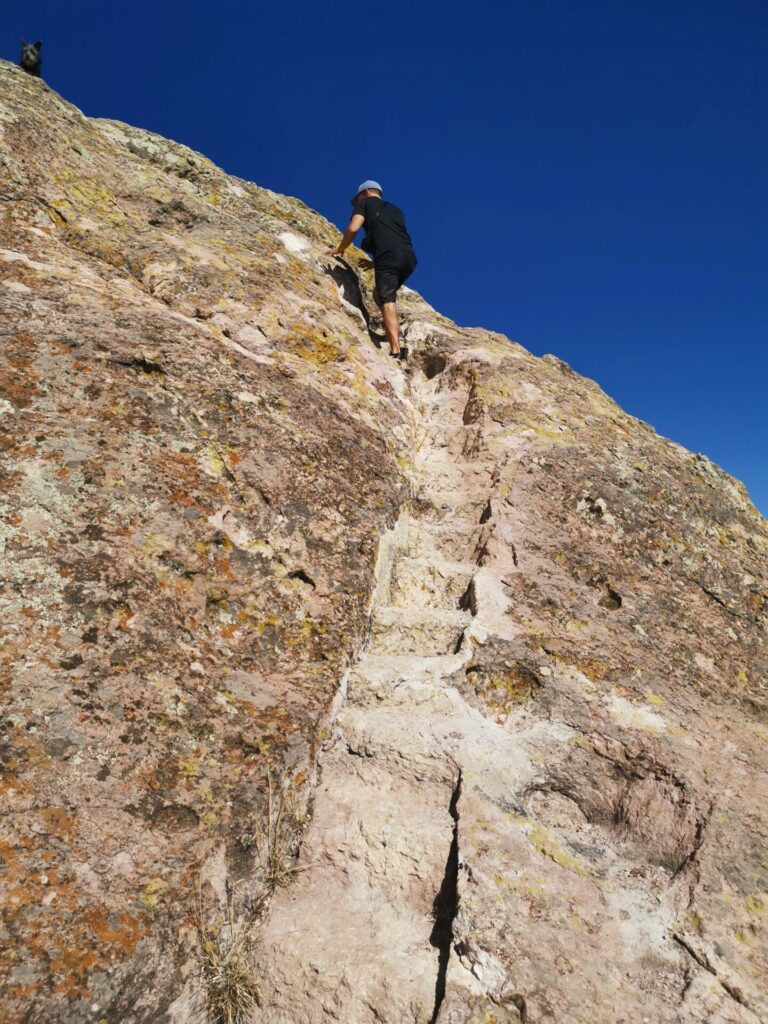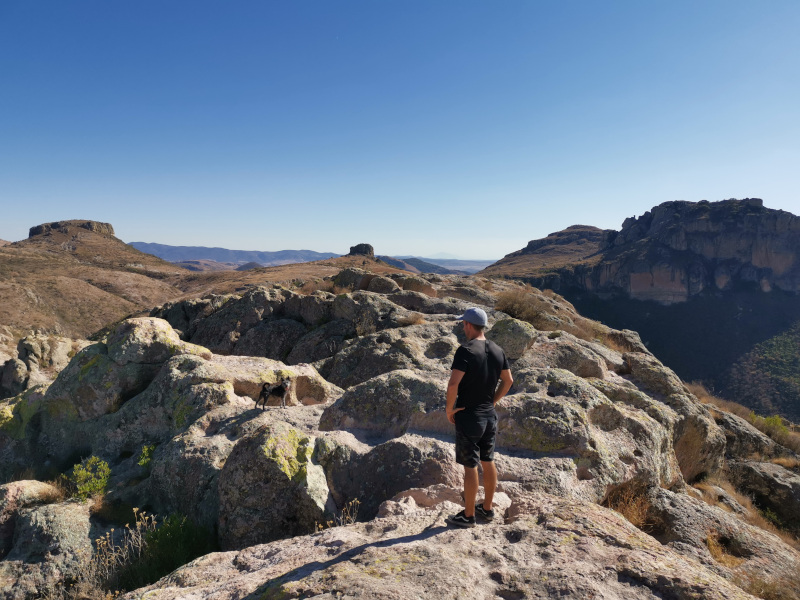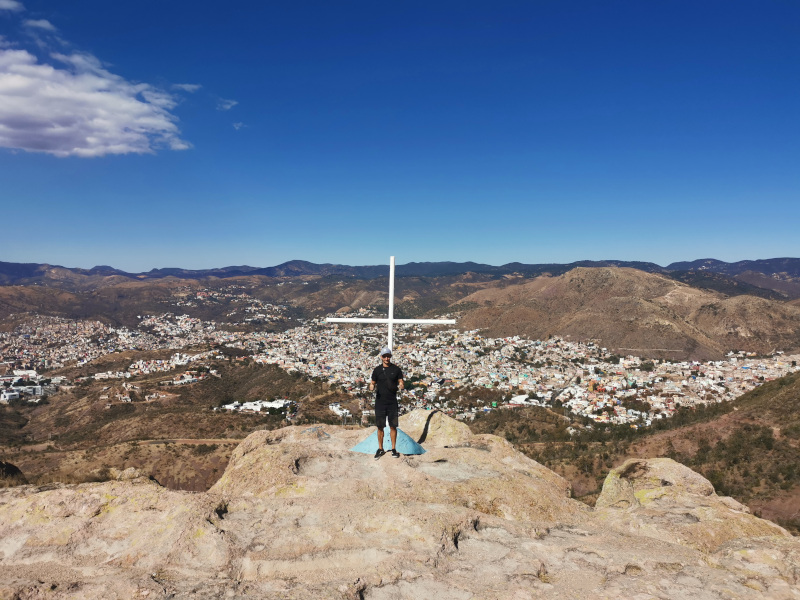 The view of Guanajuato from high above is beautiful. We spent about 20 minutes relaxing up the top before making our way down. We have done the hike twice and both times had the summit totally to ourselves.
So it is a peaceful place to get away from the madness of Guanajuato's city center and a great reward after climbing up.
Now You Know How To Hike La Bufa Guanajuato
El Cerro de la Bufa is a beautiful hike located conveniently close to the city center of Guanajuato. It is definitely a must-do while you are in town, so plan an extra half day for it.
Let me know in the comments if this guide to hike La Bufa was helpful and if there is anything you would like to add!
Are you ready for your next adventure?