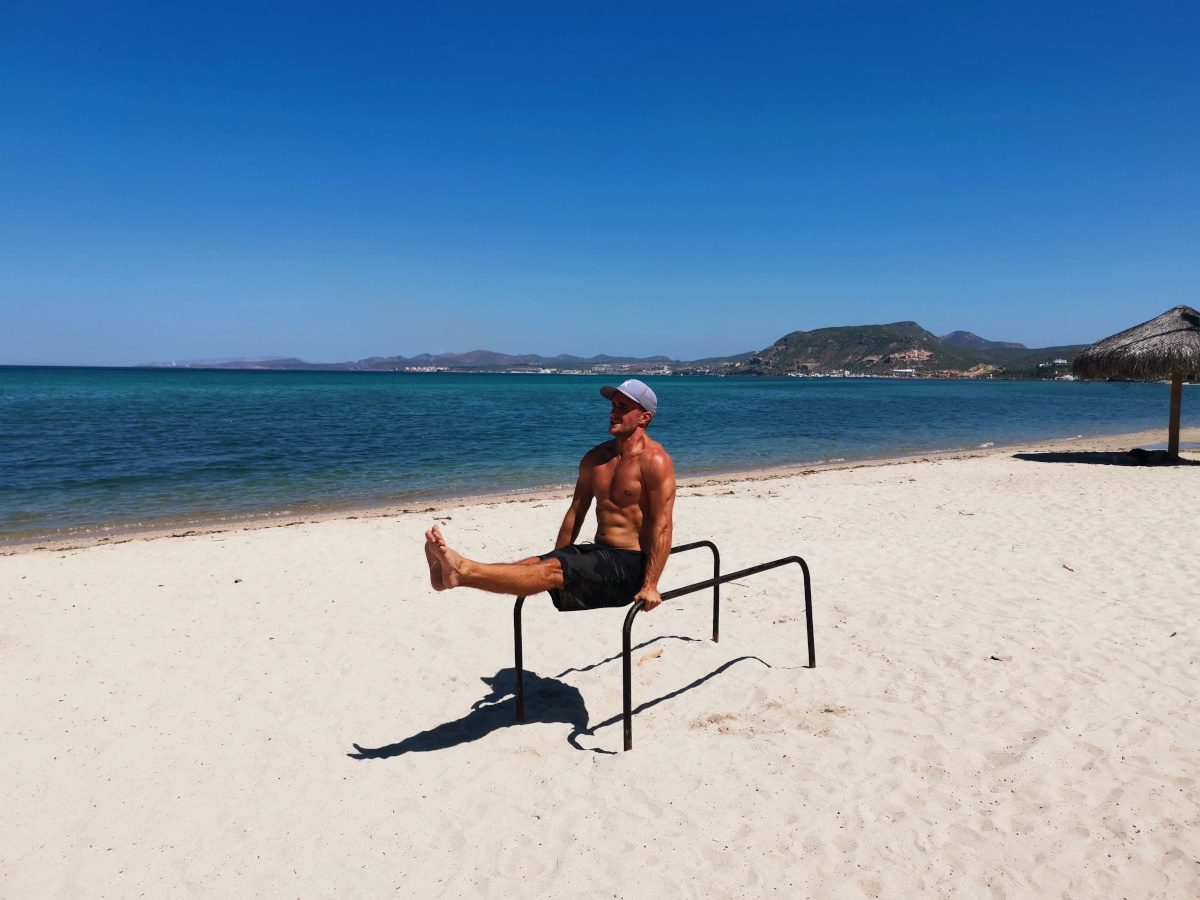 Working Out on the Road (Easy, Cheap and Fun!)
Working out on the road can be tricky for many people. When you are away from home and your normal routines it is easy to slip into bad habits and not get a good workout in.
Especially if you are away from your home gym it is easy to lose motivation and make excuses. When I first started traveling long term I was definitely in this camp.
But over time I realized that no matter where you are in the world there are always lots of great opportunities to exercise. In this blog post, I will show you all of them!
Tip #1: Do Calisthenics (My favorite way of working out on the road)
When working out on the road my favorite way is to do calisthenics. It is a great way to build muscle without needing to go to the gym and lift weights.
I first started doing calisthenics while living in Toronto because all the gyms were quite expensive. It was extremely hard to begin with as I wasn't able to do many pull-ups but I was hooked immediately.
I find it very relaxing to work out outdoors and in the sun rather than under artificial lights in the gym. Plus calisthenics parks are totally free!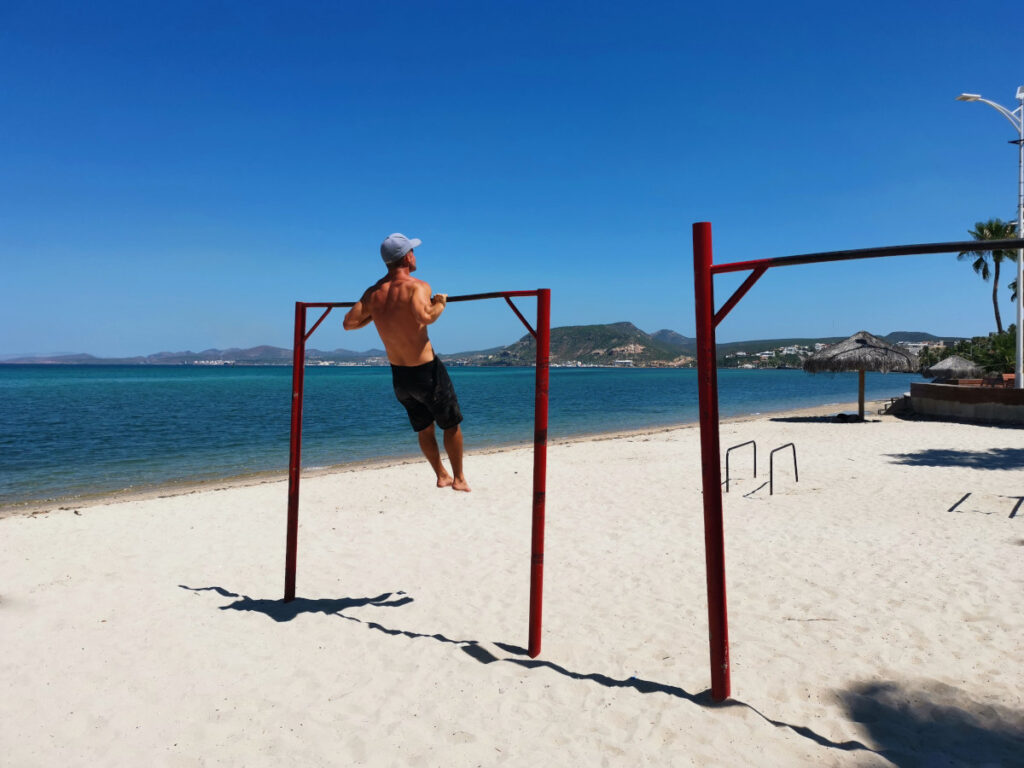 When I move to a new city I search for a calisthenics park as soon as I arrive. If you are a nomad it is an excellent way to workout as nearly all cities world wide have calisthenics areas in local parks.
One website that is very useful is calisthenics-parks.com showing thousands of calisthenics parks all over the world. Otherwise searching on Google Maps is great too 👟
Beginning with calisthenics can be very tough as it is much more complicated than just picking up some weights in the gym. But there are many high-quality calisthenics channels on YouTube that will teach you everything from beginner to advanced.
One channel that I can highly recommend is Calisthenic Movement. They have very detailed easy-to-follow videos that will teach you everything you need to know about calisthenics.
Tip #2: Go for a Run
Running is one of the most natural human movements and one of the easiest workouts while traveling. It has endless benefits and is something I always turn to while working out on the road.
As long as you have a good pair of running shoes you can go for a run practically anywhere you are in the world. So it is a great exercise for travelers and nomads.
One way that I mix up my running routine is to do sprints as well as long-distance runs. A common complaint I hear from many people is that going for runs is boring or time-consuming.
Not only do sprints offer different physiological benefits to long runs. But you can get a great workout in in just 20 minutes.
Try a sprint workout
For a sprint workout simply find a flat area with about 60-100 meters (200-300 ft) to run. Then after warming up do 8 sets of sprints for the distance you have measured out.
The sprints should be maximum effort meaning running as fast as possible. In between the sets you should rest for as long as you need until your heart rate slows down.
Doing a set of 8 sprints really gets your heart rate going and you will have a fast efficient workout. Because they are over so quickly you won't have the boredom that comes with a long slow run.
I try to do one long run a week and one sprint session a week as they both offer unique physiological benefits. It is also an awesome way to be outside and get some fresh air 🏃
Tip #3: Do Bodyweight Exercises
For days when the weather is not the best or if you are in a location with no hotel gym or cheap gym nearby, then there are still tonnes of bodyweight exercises you can do inside.
You can do them in your bedroom, living room, or wherever you choose. No equipment bodyweight exercises are great if you are short on time and don't want to leave the house.
Bodyweight exercises at home can still be used to build muscle while traveling. If you master a pistol squat, handstand pushup, or planche push-ups you will stay in awesome shape.
But you can also do cardio if you do sets of pushups, burpees, air squats, etc. There are a lot of different routines available online for free. Once again the best resource is YouTube!
For cardio, search for HIIT workouts. These workouts will be sets of bodyweight exercises that will get your heart beating in no time. If you want more strength workouts I find that calisthenics channels have the best videos 🥵
Tip #4: Go Hiking (Working out on the road in nature)
Over the past couple of years, hiking has become one of my favorite activities while traveling. During our stay in Cape Town, we went on amazing hikes that gave us a good workout at the same time.
Of course in many cities around the world going for a hike may not be an option. However, you may be surprised how many great hikes are just a short drive away.
I find that hikes not only give you great physical benefits but also mental calmness. In our modern world, we need time to be away from technology and just enjoy nature.
So no matter where you are in the world try to find the closest hike. Then get out into nature and have a workout at the same time.
Great websites to find free hiking trails all over the world are AllTrails or WikiLoc 🥾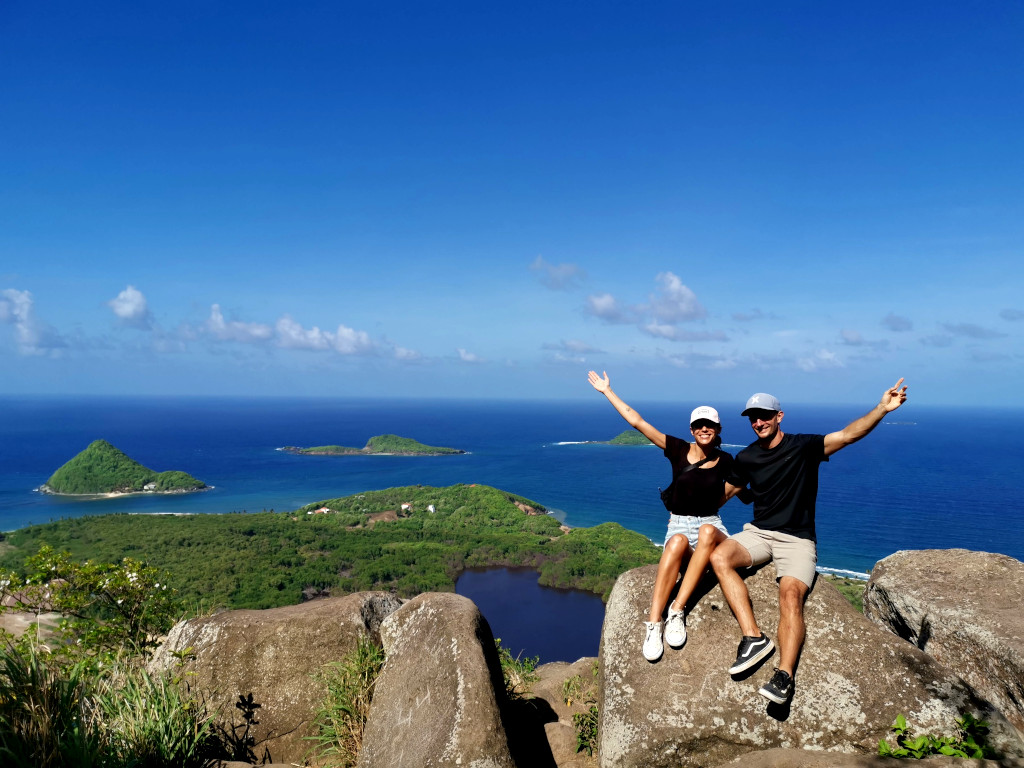 Tip #5: Practice Yoga & Mindfulness
Yoga is not something that I have really taken part in, to be honest. But I am well aware that it is a great workout that has plenty of mental and physical benefits and Katharina is a great fan of it.
There are also yoga classes in practically every location around the world particularly if it is a digital nomad hotspot such as Playa del Carmen, Mexico City, Barcelona, or Cape Town.
But once again if classes are expensive you can always find everything you need on YouTube. So if you do yoga at home it can be another great way to exercise for free.
Because Katharina quite often goes to yoga classes we are always traveling with a yoga mat. Even if you are not into yoga, traveling with a yoga mat is a great idea.
They can be very useful for doing other exercises indoors and you can easily attach them to the side of your backpack. Or you can just carry it with you on a plane as your personal item.
If you would like to do more home workouts while on the road I highly recommend traveling with a durable lightweight yoga mat 🧘
One channel I found that looks great for beginners is Breath and Flow. They have great videos for all experience levels.
Tip #6: Travel with Simple Equipment
Since we are full-time travelers and are sometimes in remote or busy locations where it's not easy to get a good outdoor workout in, we travel with some basic exercise equipment.
Everything we travel with is multi-functional and lightweight and fits in our minimalistic backpacks:
They are low cost in comparison to a gym membership and that way you can stay in shape no matter where in the world you are! 🌍
Working out on the road with Pushup Bars
Push-up bars are great for doing many different push-up variations. But they are also useful for more advanced moves like the l sit, handstands, the planche, and more.
Check out this video to see some of the different exercises you can do with push-up bars down ⬇️
Working out on the road with Resistance Bands
Resistance Bands have many different uses. They can be used to help you get started with calisthenics by assisting you if you don't have the strength to do pull-ups for example. By looping a resistance band over the bar and putting it under your feet you will be able to do far more reps.
They are also very useful if you want to learn more advanced moves such as a front lever or a planche. So considering their low cost and light weight I think they are a perfect piece of equipment for travelers and nomads wanting to stay fit.
Or they can be used to do exercises such as bicep curls or squats. Check out the video below to see all the different exercises you can do with them ⬇️
Working out on the road with Gymnastic Rings
Gymnastic Rings can be quite bulky to travel with. But if you are serious about working out they are the best piece of equipment you can buy and they fit easily in my backpack.
You can hang them up on a tree, on any metal bar, or on a wooden beam in a house. Then once they are hung up you can get an intense whole-body workout.
There are a lot of skills to learn on the rings that make them a bit more interesting than weight training. This also means that they will be very frustrating to use as a beginner.
But once you start making progress it is very rewarding. If you need tips on how to get started using gymnastic rings then check out this YouTube video down below ⬇️
Tip #7: Get Creative
If you are traveling long-term like me you may end up in isolated locations with no gyms for miles. In this case, I find it is always good to get creative with your workouts.
For example, instead of lifting weights you can just find something heavy on the beach or in the house and use that as a weight. It is surprising how good of a workout you can get in by just grabbing the closest heavy object and moving it around.
If you are at the beach look for some rocks and lift them. Or at home, you may be able to lift a gas canister or a large water bottle 🏋️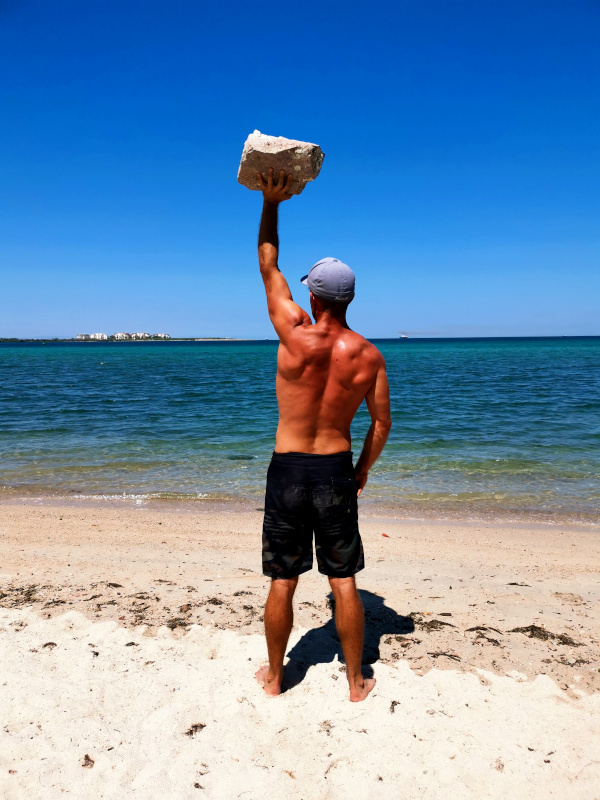 You got this: Have fun Working Out on the Road!
The most important thing? Have fun! I hope my tips inspire you to work out more while you are on the road. Skip the excuses and get started 🙂
I find that I am much happier when I stay in a consistent workout routine. Keeping workouts going while you are on the road will make you enjoy your travels even more.
So find some exercises on the road that you enjoy and can do no matter where you are in the world (easy ones count too!) and you will be a happier and healthier traveler. Cheers!
If you have more tips for how to work out on the road let us know in the comments below.
READ ALSO:
Hey there! Some of the links on this page are affiliate links. This means that if you choose to make a purchase we may get a small commission at no extra cost to you. These commissions help us to generate income and keep creating content for you. So we greatly appreciate your support! Thanks!