How To Get Free Accommodation For Travel (5 Proven Ways!)
Accommodation will nearly always consume a large part of your monthly budget while traveling. When I first started out backpacking I realized very quickly that even if you are staying in the cheapest hostels you can find the amount you are paying every night quickly adds up. So if you want to travel long term for cheap the best option may be to have free accommodation.
It seems impossible to get accommodation for free. But if you are willing to travel slowly and step out of your comfort zone there are many options how to get free accommodation. In this article, I will go through my top 5 ways to get free accommodation that I have discovered via years of traveling.
1. Workaway
Workaway is an online platform where hosts offer free accommodation for travelers in exchange for work. The work can be a wide range of activities including farm work, hospitality, animal care, eco projects, and more.
So whatever your interests there is sure to be some type of work that you would like to do. I had some great experiences and met some amazing people via the platform so I highly recommend it.
You will be expected to work no more than 5 hours per day. In my experience, you can quite often end up working a lot less than this. The number of hours you work will vary depending on the host you have. So it is important that you communicate with the host before you arrive what the expectations will be.
In return for work, you will be given a free place to stay and in rare circumstances, it is possible to receive a little bit of money for your work. However, I have never been at a work away where this has been the case.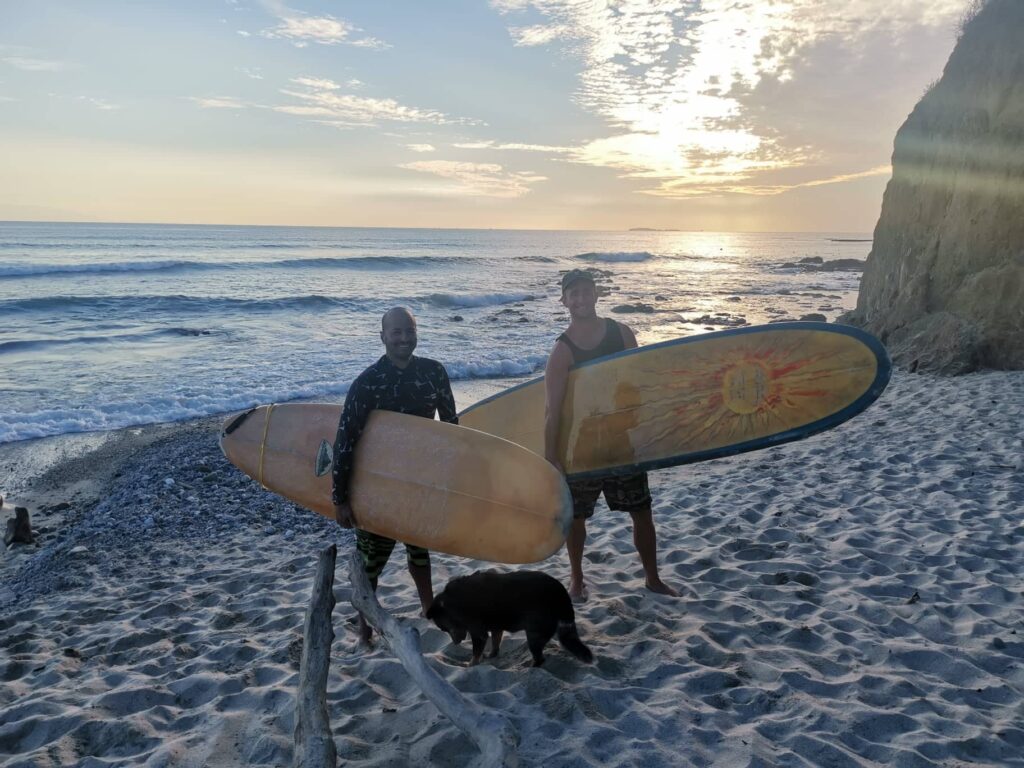 Workaway Costs
Signing up for Workaway costs 43 USD for a single person and 52 USD for a couple. The signup fee is well worth it as most Workaway hosts will require a minimum stay of over 2 weeks or longer. So you will make back the money you spend on the membership very quickly.
I have used Workaway as a single person where I found some hostel work when I first started backpacking. At these jobs, I just helped out at reception and did cleaning in return for a place to sleep. Hostel work is great when you are a backpacker and find a city you really enjoy and feel like staying for longer.
However, I have used it a lot more as a couple. My first thought was that there would not be many jobs for couples on Workaway. However, there were plenty of hosts that actually looked for couples. The advantage of doing Workaway as a couple is that you will not feel as lonely if you take a job in a remote location.
Accommodation
The accommodation that you will receive in return for your work can vary quite a bit. A lot of jobs will offer shared rooms and sometimes just camping if you do work on farms. However, we were always able to find jobs that gave us quite big comfortable private rooms.
We only ever had positive experiences with Workaway. We met interesting people and were able to experience parts of the country we never would have seen otherwise. So if you want to travel slowly and save money I highly recommend Workaway. For a more in-depth review read here.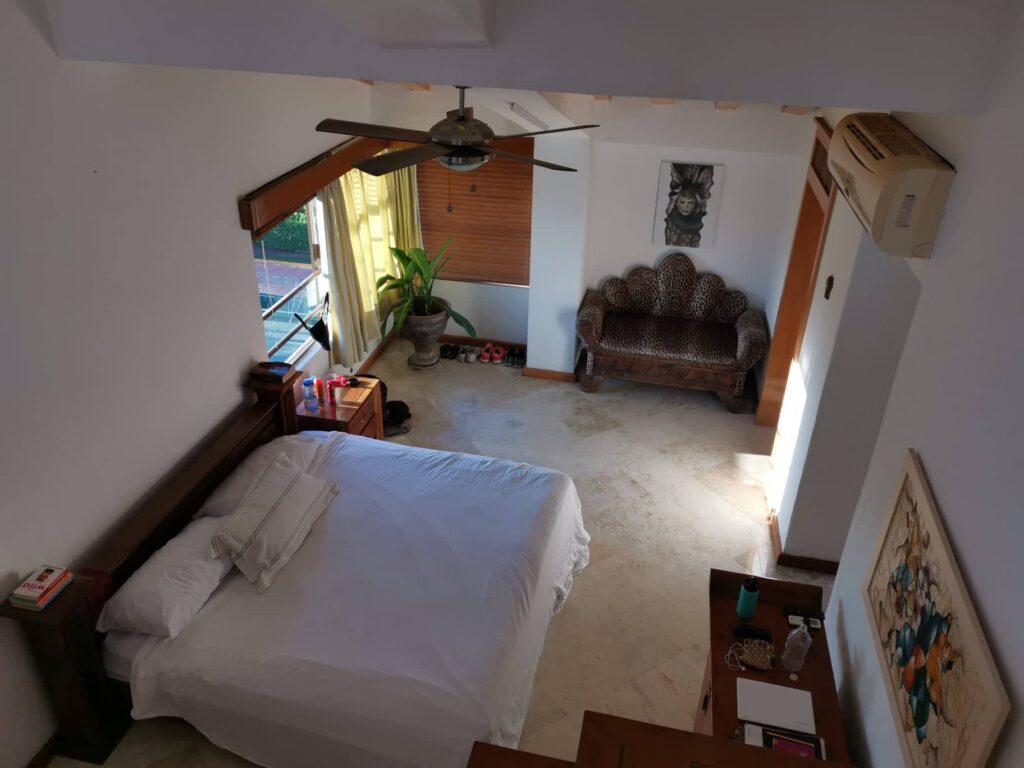 2. Petsitting – Our Favorite Way How To Get Free Accommodation
Petsitting is something that we have only got involved with recently and we love it! We started walking dogs as part of the responsibilities of a Workaway host and really enjoyed it. So our host suggested that we should try pet sitting.
We found a website called TrustedHouseSitters and have found it to be a great platform that has connected us with some great pets and hosts.
The way the platform works is that if a pet owner is going on holiday they place an ad. The ad states how long they will be away, the type and number of pets, and the responsibilities. If you want to apply you send the host a message and the host will get in contact with you if they want you to come look after their pets in exchange for free accommodation.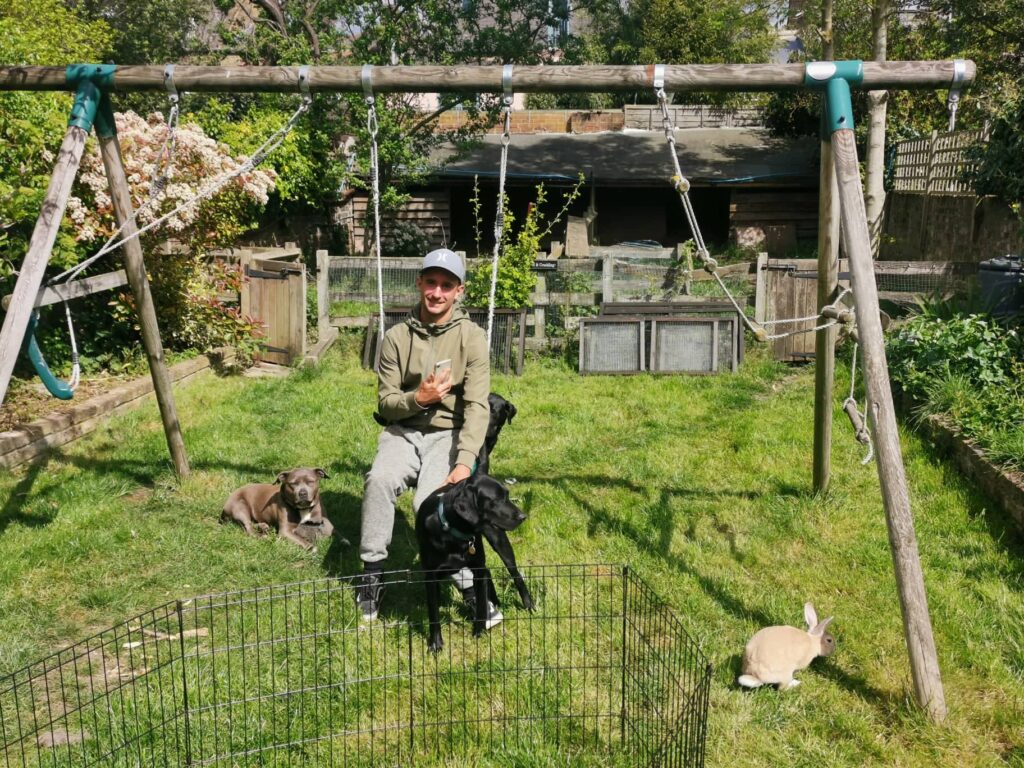 Of course, you should only use this platform if you really love pets! The owners are putting a lot of trust in you to look after their pets and their house so you should not use it simply for a free place to stay.
There are three membership plans that sitters can sign up for the basic sitter is 129 USD, the standard sitter is 169 USD and the premium is 259 USD. Each plan has its own benefits so you will have to choose your own based on what you want from your membership.
If you would like to join Trusted House Sitters join up using our link and enter HAPPYHEALTHYNOMADS at check out for a 25% discount
It is a fairly expensive sign-up fee but in my opinion very good value for what you get in return. If you would like to read a more comprehensive review TrustedHousesitters click here.
3. Work In Hostels
Working in hostels is one of the most common ways for backpackers to get free accommodation. It could easily go under the Workaway category as there are plenty of hostel jobs on that website.
However, I have put it in a different category because I have found that one of the best ways to get a hostel job is just to ask when you arrive. If you arrive at a cool hostel that has volunteers and you would like to spend longer. Then just ask if they need any new volunteers soon.
There are two benefits to just asking when you arrive. The first is that you can check out the hostel first to see if you really like it before you volunteer. Plus it is totally free! as you do not have to pay to sign up to a website to do it.
I have done this in Turkey, Peru, Scotland and a few other countries and always had a great time. What the hostel requires you to do for work and the amount of time you have to work can vary quite a lot. In some hostels, you may just have to clean for a couple of hours each day but others may need you to work at reception for much longer.
Also, some hostels may just give you a free bed in a dorm in return for working but some of them may give you food as well. It all depends on the hostel, if you are a backpacker I think it is something you must try at least once.
4. Couchsurfing
Couchsurfing is one of the oldest ways to get free accommodation. The couch-surfing website was actually created by an American backpacker in 1999.
He went on a trip to Iceland and discovered that the hotels were going to be way too expensive. So he decided to send emails to hundreds of Icelandic University students from a list that he found online. He received hundreds of invitations to stay and thought it would be great if there was a website where anyone could do this. So he created the Couch surfing website where people could offer a couch or spare bed to travelers for free.
The way that Couchsurfing works is a host places an ad saying if they have a couch or bed available. You create a profile and then can send messages to hosts to see if they would like to host you. If they decide they would like to host you they will send a message and you organize the details together. The signup fee is around 15 USD per year so it is well worth the money.
Couchsurfing also has an online community that you have access to when you sign up. People can organize events where other travelers meet up at bars or go on hikes. So even if the idea of staying at a stranger's house does not appeal to you. The Couchsurfing community is a useful way to meet people if you are feeling lonely on the road.
I have only used Couch surfing once while I was in Norway. I was in the exact same position as the creator of Couch surfing planning a trip to Norway and realizing all the accommodation was way too expensive. So I signed up for Couch surfing and met some really nice locals and had a great time.
So if you don't mind sharing a space with someone and want to meet up with locals I highly recommend Couchsurfing
5. Home Exchange
This is not something that I have taken part in, as I do not own a home. But I heard about it through an Airbnb host in Mexico. Whenever she went on holiday she would find someone who wanted to stay at her place in Mexico and swap houses with them. There are websites such as HomeExchange which help homeowners to connect. So if you own a house it can also help you to get free accommodation while you travel.
Now You Know How To Get Free Accommodation
That brings us to the end of our list. Hopefully, you can use some of these ideas to fulfill your dreams of long-term travel! If you would like to read more articles about how to travel affordable check out the list below.