Leticia, Colombia – The Gateway to the Amazon (Top Tips!)
Leticia, Colombia is the largest town in the Colombian Amazon. Most people quickly pass through Leticia on the way to Amazon tours without seeing it.
But I think that Leticia definitely deserves a day or two of exploring. It sits on the 'Tres Fronters' or three borders where Peru, Brazil, and Colombia meet.
This means that you can visit all three countries in one day! 🙌 You can head over to Peru for ceviche for lunch and finish off your day with a drink in Brazil.
Leticia is a small frontier town that is chaotic and noisy but has cool things to see and is an awesome place if you want to get away from daily life.
So don't miss out on spending some time in Leticia, Colombia!
Leticia Colombia Map
Leticia is located right at the very bottom of Colombia. It is deep within the Amazon rainforest on the Amazon River.
Flying into Leticia is awesome because you will fly for over an hour above the visible thick jungle, so make sure to reserve a window seat! 🌴
Although Leticia is deep within the Amazon rainforest you will still need to travel a decent distance down the river for most tours. But it makes a great base.
Leticia Weather
Because Leticia is in the Amazon near the equator it is hot and humid all year long. So be prepared to sweat a lot while you are in town.
The average high temperature all year long is about 30C° or 85F. The average humidity is also about 88% so no matter when you come it will always be hot.
When is the best time to come to Leticia?
Before we came to Leticia we read a lot of conflicting advice about when is the best time to come to Leticia, Colombia.
Many other blogs said that the dry season (July – October) was the best time to come to Leticia. This means the water level on the Amazon is much lower.
But the truth is that any time of year is good for visiting Leticia! ☀️
If you come in the dry season the water level is lower so it is much easier to do hikes in the jungle. But if you come in the wet season the water levels are much higher. Up to 10 meters (33ft) higher!
This means that there are much more boat trips available. Because the water level is so much higher in the wet season you are more likely to see wildlife in the water and in the trees because your boat will be so much closer.
So do not listen to anyone who says that it is best to come in the dry season. The best time to go to Leticia is whenever you can make it there.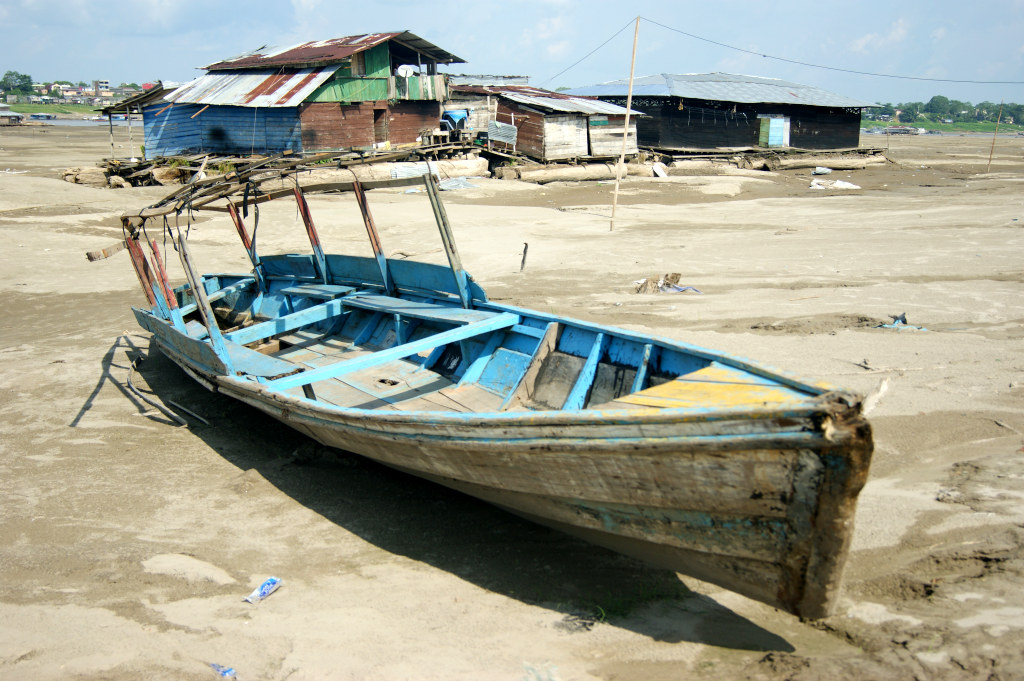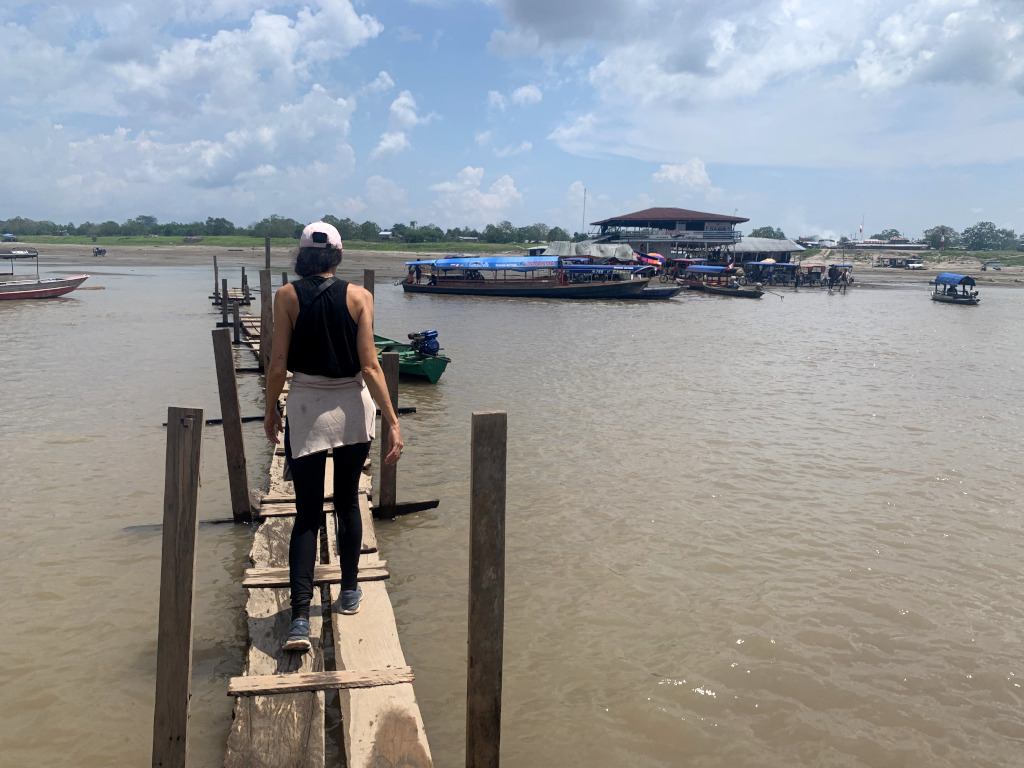 How to get to Leticia, Colombia
The only way to get to Leticia is by airplane. This is because there are no roads to Leticia as it is so deep in the jungle. The nearest highway to Leticia is over 800 km (500 miles) away!
There are cheap flights leaving from most large Colombian cities particularly if you book in advance. Check out Avianca and LATAM Airlines.
All the flights will transfer through Bogota. So if you are in another city you will have to fly to Bogota first. We flew with Avianca from Medellin and only had a 1.5-hour layover in Bogota in both directions.
💰 Tip: To save money just take a carry-on and leave your bags in Bogota or the city you depart from. This will save you about 50 USD per person. The Amazon is so hot you really do not need to have all your luggage with you. So ask your hotel or hostel if you can store your luggage there while you are away.
Leticia Colombia Airport
The airport in Leticia is located super close to the town. Driving into the middle of town from the airport only takes about 5 minutes 😂 We actually decided to walk to our hostel because it was only a 15-minute walk from the airport.
The airport is also super modern so you will not be arriving at a run-down airport in the middle of the jungle. Just the Wi-Fi didn't work for us. But there are plenty of taxis waiting outside as well so it is super easy to get a ride into town.
🎟️ Head's up: When you arrive you will have to pay 30,000 pesos (8 USD) tourist tax at Leticia Colombia airport.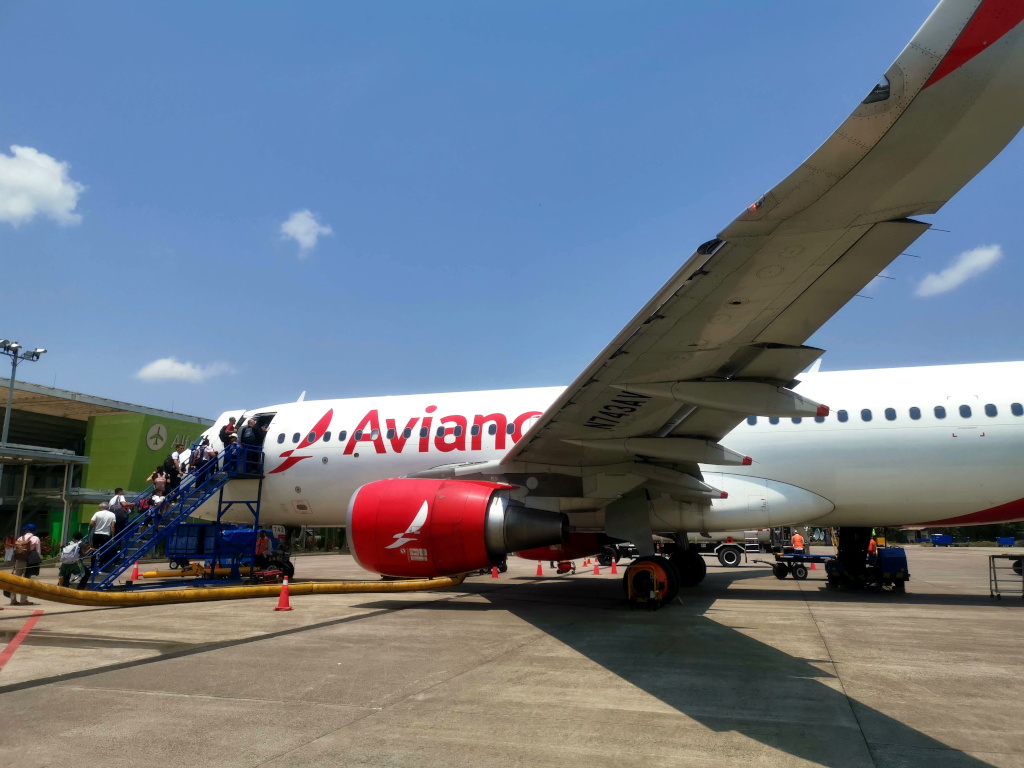 8 Top Things to do in Leticia, Colombia
1. Watch thousands of Parrots at Parque Santander
Every evening at sunset Parque Santander 📍 in Leticia hosts an amazing wildlife display that will rival anything you see in the Amazon!
At 5 pm thousands of Parakeets arrive at Parque Santander to sleep for the night. The birds have been feeding in the jungle all day but for some reason choose to sleep in the park at night.
The sheer number of parrots that arrive is mindblowing. The noise that the parrots make is deafening as thousands of them screech while they dive into the park at crazy speeds.
If there is one thing you do in Leticia make sure you see this wild spectacle!
🦜 Tip: For the best view of the parrots you have to go up to the top of the church tower by the square. It only costs 5,000 COP (1 USD) to go up and has by far the best view. Simply walk inside and there should be someone waiting to take your money.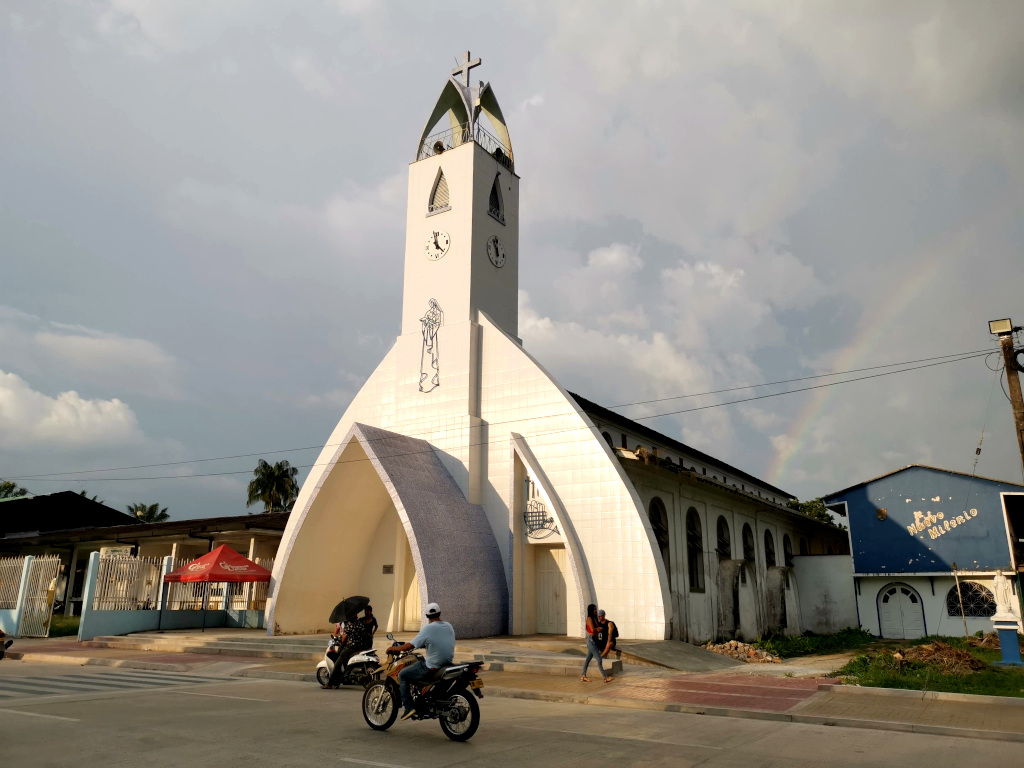 2. Go to Peru and eat Ceviche
There is great Ceviche in Leticia but Peru is the home of Ceviche. So why not cross the river and have some Ceviche while visiting another country?
The town on the Peruvian side of the border is called Santa Rosa. It is actually located on an island on the Amazon River.
Although it is a very short ride to the Peruvian side, it does feel like a different country. There are Peruvian flags everywhere and the tuk-tuks are different from the Colombian side.
The journey across to Peru was very interesting as well. We went in the dry season so a huge part of the river had dried up.
This meant that many houseboats and businesses that usually float on the river were on dry land. It was a very unusual landscape to walk through!
The Peruvian Restaurant in Santa Rosa that we went to was Restaurant Turistico Sabor Peruano 📍. They have delicious ceviche and a colorful seating area with hammocks overlooking green fields.
🇵🇪 Tip: While you can still speak Spanish in Peru, they do have a different currency (Sol). But the menu we got was in Colombian Pesos and we were also able to pay in Pesos. But make sure to ask before you order. There are also a few little money exchanges around.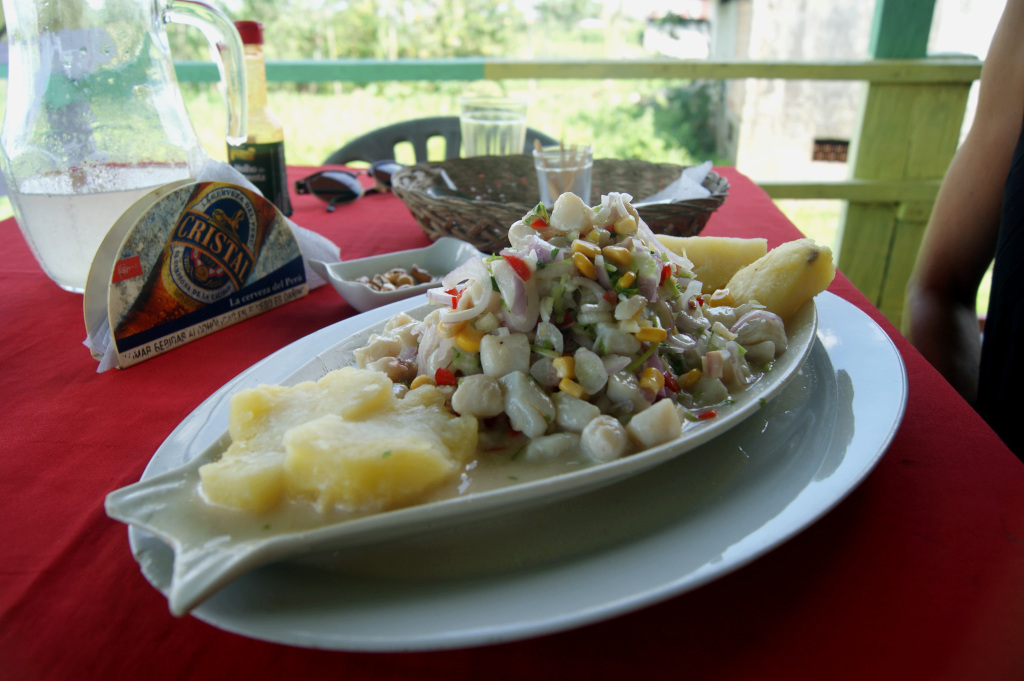 How to get from Leticia to Peru
To get to Peru from Leticia only takes you about 30 minutes.
Make your way to the river by the central market.
If it is the dry season there will be a bridge across the river. If it is the wet season you will need to get in a boat to cross the first river.
Follow the path on the other side until you reach the main river. At the main river, there will be a whole lot of boats on the side of the river.
Ask someone for a boat ride to Santa Rosa, plenty of fishermen will take you. The boat ride across this river only costs 5,000 pesos (1 USD) each way.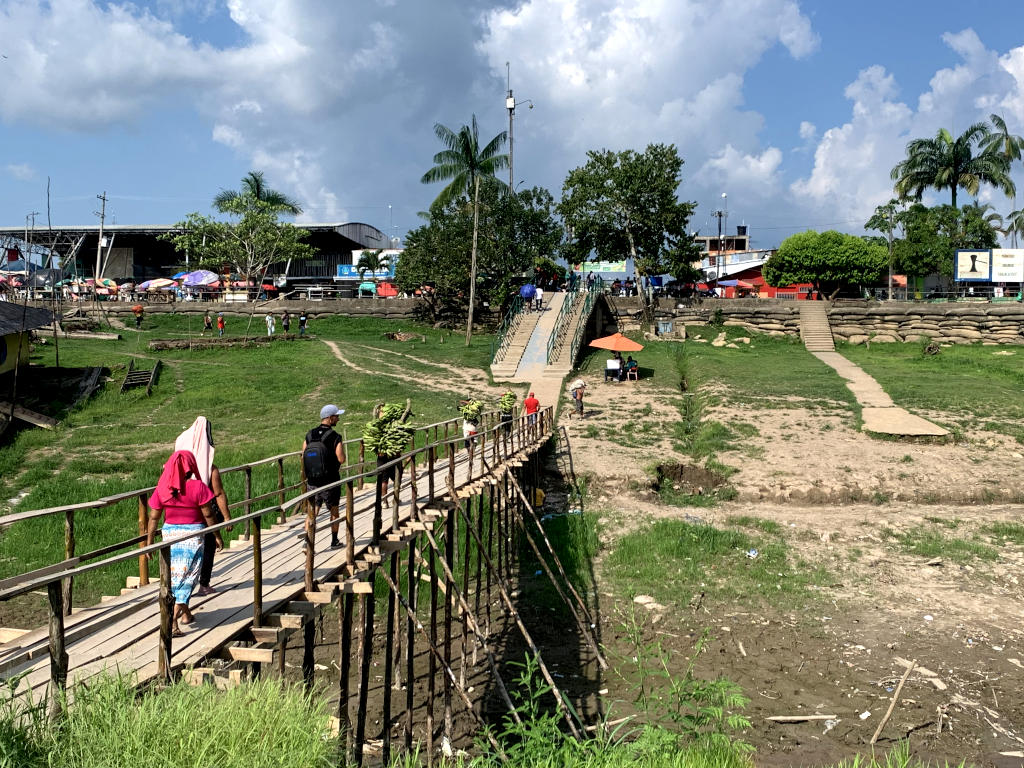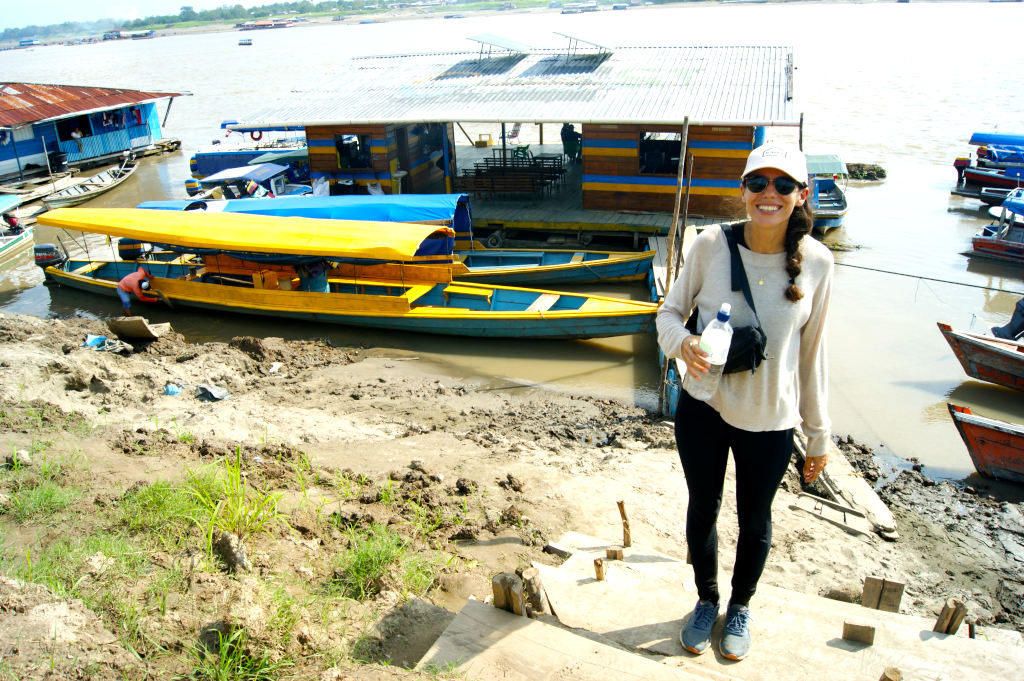 3. Explore Leticia's Waterfront
Exploring the waterfront in Leticia, Colombia will be dramatically different depending on what season you visit. The Amazon River can be up to 10 meters (33 ft) higher during the wet season than the dry season!
This completely changes not only the landscape but how people live their lives. The indigenous tribes do not refer to hot and cold seasons as we do. But for them, the seasons describe how high the water level of the Amazon is.
📸 Tip: No matter in which season you visit walk on the raised walkway at the waterfront. It is a great place to see village life in the Amazon. If you are facing the river from the central market walk to the right to find the walkway which is marked as a street on Google Maps.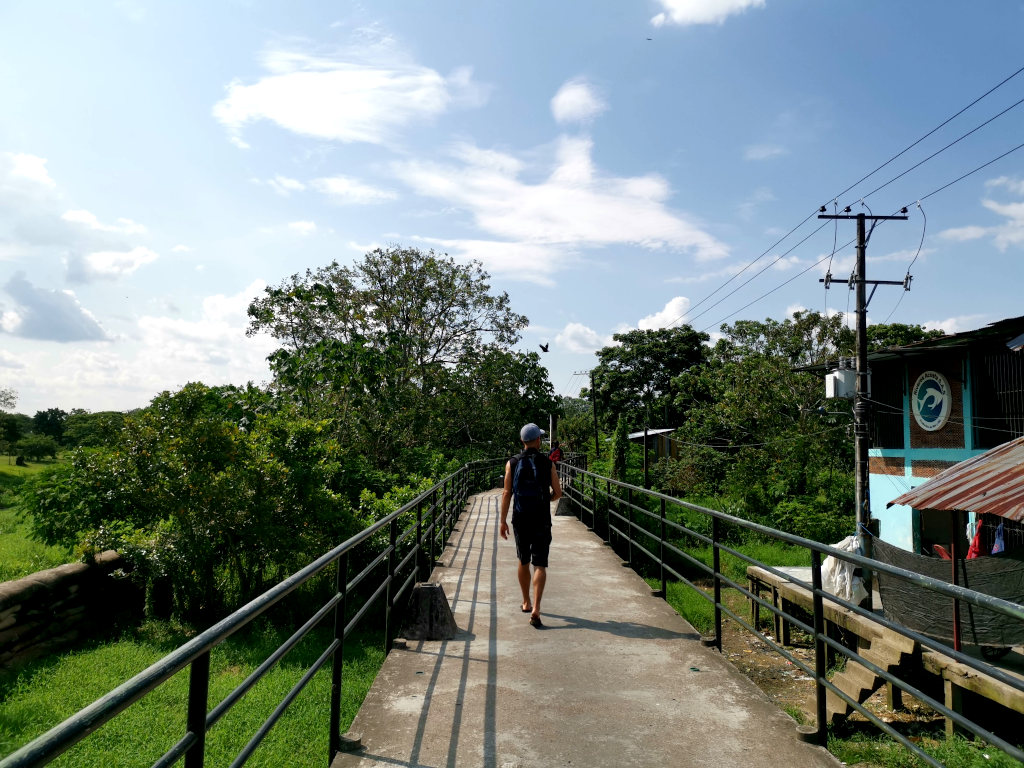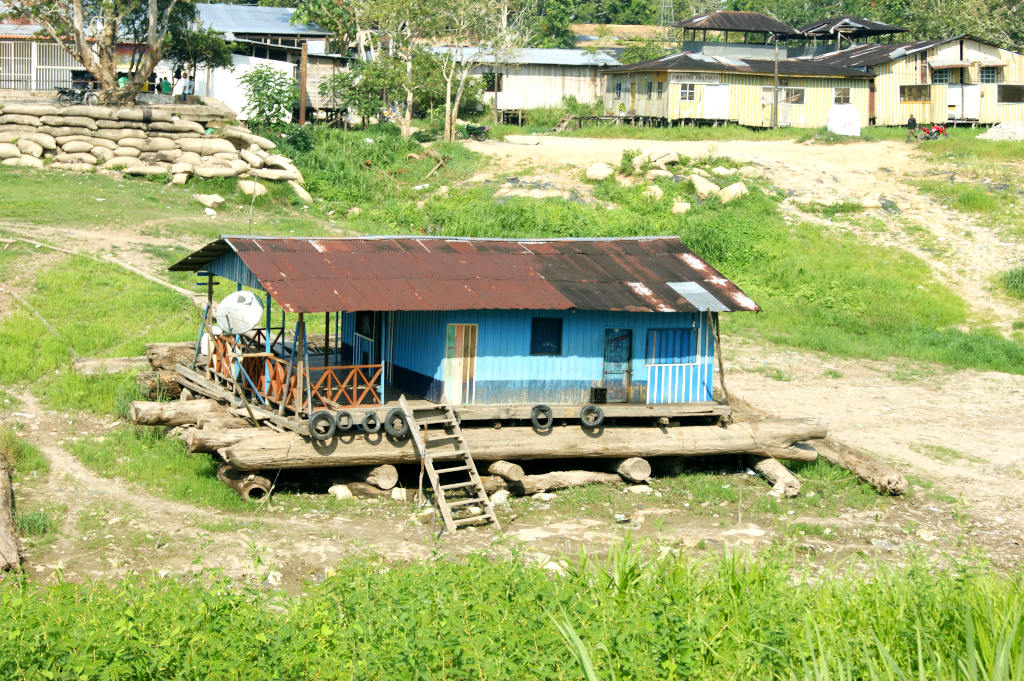 4. Learn about Indigenous Amazon Tribes at the Ethnographic Museum
Leticia has an impressively modern public library for a small town. Inside the library is a small museum, that is definitely worth a visit. Plus it has AC! 😆
There is a single room with exhibits about the different indigenous groups that live in the Colombian Amazon. Even though it's small it has a lot of interesting info.
The rituals and ways of life they describe that the local tribes follow – who have called the Amazon home for centuries – are quite extreme.
5. Buy some Local Food at the Leticia Colombia Market
Visiting local markets is always a great place to experience real local life up close. Leticia is no different and the local market is definitely one of the best things to do in Leticia.
The market is a chaotic and fairly messy place. But if you want to get some fresh produce and see some interesting Amazon fish you usually never see it is a great place to visit.
🍴 Tip: To eat like a local grab a cheap breakfast or lunch in the upstairs area at the market. They sell fish, chicken and soup.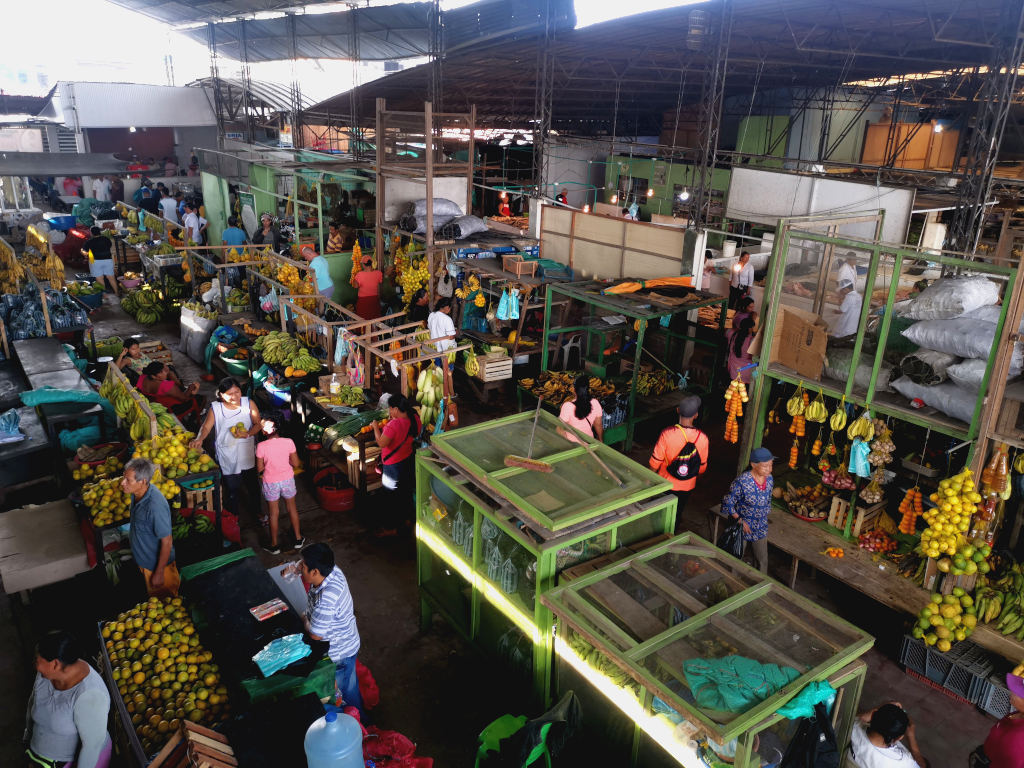 6. Take a photo at the Three Borders Sign
The area around Leticia is known as the Tres Fronteras which literally means the three borders. You can take a photo at the Three Borders Sign📍
It is located fairly close to the central market so it is easy to quickly head up to it before or after visiting the market and take photos with. Cheeeese!
7. Cross the Border to Brazil
I didn't find the Brazilian town as interesting as visiting the Peruvian side. But it is still definitely worth a visit and is so easy you have to do it.
You can simply catch a tuk-tuk for 5.000 pesos (1 USD) to the border and walk across. There is no physical border, however, we heard that the Brazilians may build a border soon. So it may not be so easy to cross in the future.
Crossing into the Brazilian side is strange because it feels like the same town. But it's funny to suddenly hear people speak Portuguese and the roads are way nicer than on the Colombian side (no potholes!).
There is not a whole lot to do here. But you can come over to have a Brazilian meal and snap a photo with the many "I love Brazil" signs.
🇧🇷 Tip: You will suddenly be confronted with Portuguese but most people also speak Spanish so close to the border. The currency of Brazil is Real so make sure to ask before ordering if you can pay in Pesos, exchange some money or – which is way harder on the Peruvian side – pay by card.
8. Visit Puerto Nariño from Leticia
Puerto Nariño is a special village on the Amazon that is 2 hours by boat from Leticia. It is a super peaceful town in the jungle with no cars that is a great place to explore the Amazon.
Not many people know about Puerto Nariño but I think it is one of the best places to go in the Colombian Amazon.
You can visit Puerto Nariño on a day trip from Leticia. However, if you have the time we highly recommend staying here for a few nights.
We spent 5 nights here and absolutely loved it. Part of the reason was because our accommodation (Cabañas Alto del Aguila📍) was one of the most fun places we have ever stayed in.
Read here:
All you need to know about Puerto Nariño 🐒
How to get to Puerto Nariño from Leticia 🚤
Amazon Tours from Leticia, Colombia
Nearly everyone that comes to Leticia is going to want to do a tour of the Amazon. Many tour companies leave from Leticia but you have to be careful who you choose.
There are a lot of tour companies that will take you to tourist traps such as Monkey Island. Which is an island where monkeys have been bought purely to entertain tourists.
Or they will charge you a high price for something you could do on your own much cheaper. We met some Australians who were really unhappy with their 3-day tour which they paid about 500 USD for.
💰 Tip: As we did not book an Amazon tour from Leticia we cannot recommend a company. But after reading how much some companies charge for the same things we did on our own, our advice is to choose very carefully. Unfortunately, there are plenty of companies ripping people off. Keep reading to find out all our Amazon-DIY-Tours-Tips!
Amazon Tours from Puerto Nariño
After two nights in Leticia, we chose to stay for 5 nights in Puerto Nariño which is deeper in the Amazon. From there we booked day trips with local guides on the spot and loved it.
🏠 So if you can stay in Leticia and Puerto Nariño and book tours from there.
We stayed at Cabañas Alto del Aguila 📍and absolutely loved it. The cabañas are rustic so do not expect fancy bathrooms and AC.
But if you want to be surrounded by wildlife and have an awesome experience then I cannot recommend it enough.
The owners Fray and Elenda are real characters and it is a great place to practice Spanish by talking to them. Also to get to Puerto Nariño from Leticia is super easy, see a full description here.
🐒 Many of the tours you book in Leticia will take you to Cabañas Alto del Aguila to see the monkeys charging an entrance fee. So why not stay there rather than go on a tour?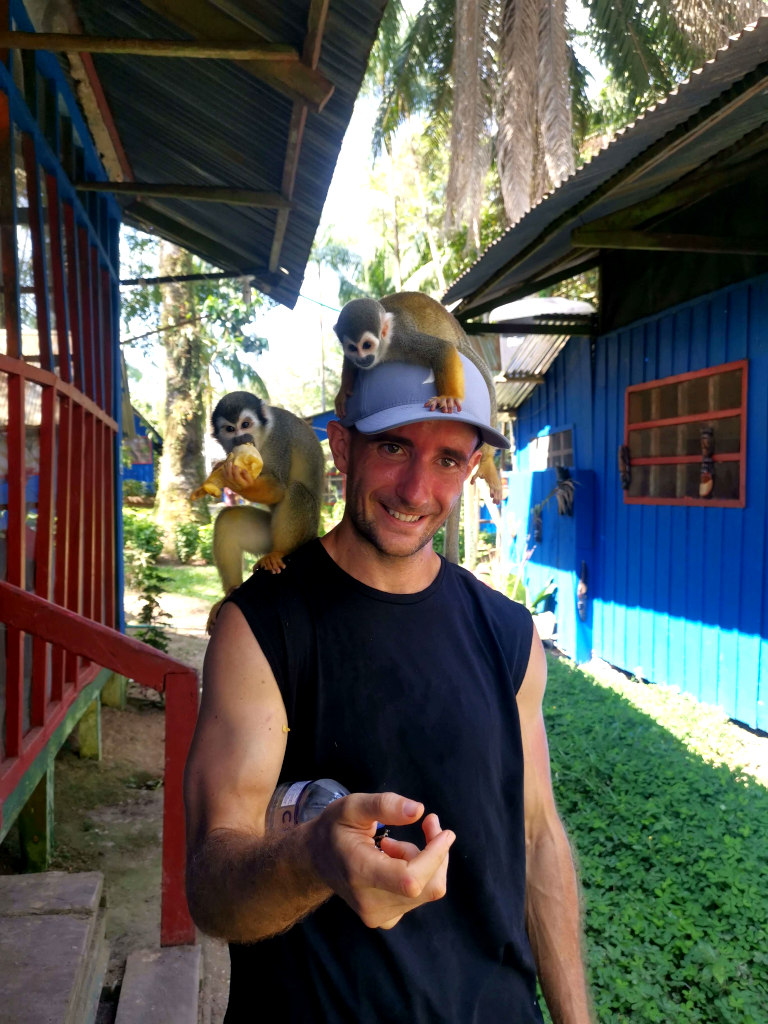 Where to Eat in Leticia, Colombia
Nativos
Nativos is a great restaurant in Leticia to get a taste of Amazonian food. As you are in the Amazon the most common dishes usually involve fish.
The ceviche at Nativos is really good but you can also get grilled fish or meat. We found the food we had later on in our Amazon trip cheaper and even better but it is a great option for Leticia and has a nice seating area.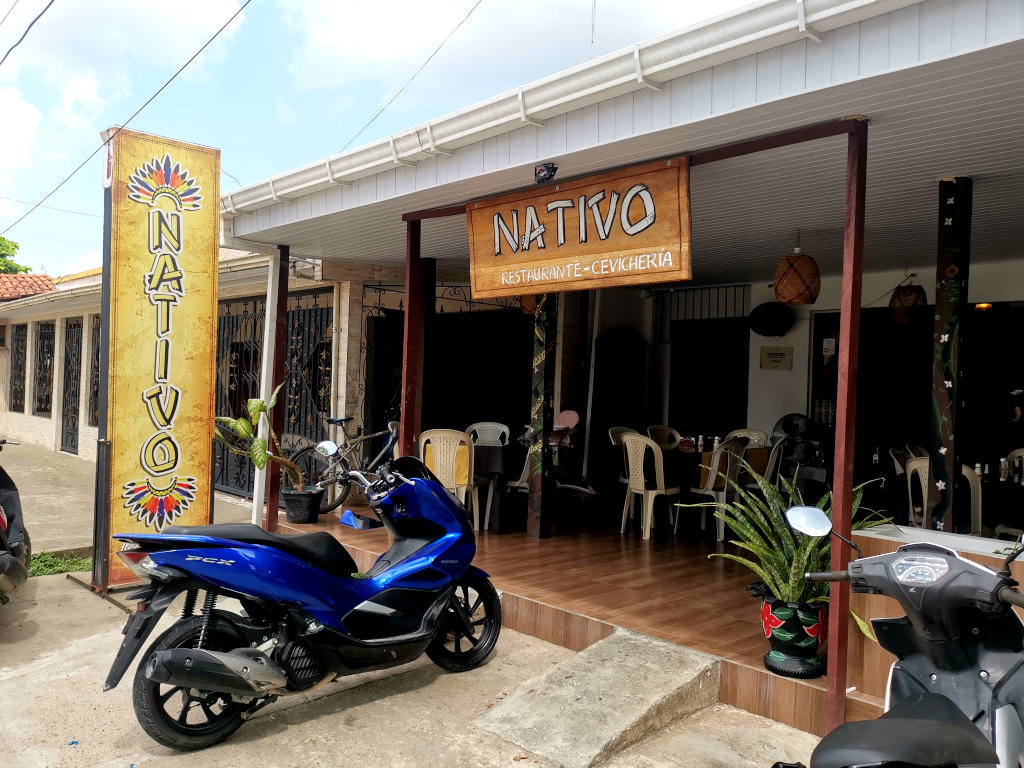 At the Local Market
If you want to eat like the locals then you should head to the local market for breakfast or lunch. There is an eating area on the second floor of the market.
They serve simple food (mostly fish, chicken, and soups) but it is super cheap, fresh, and tasty. Just be warned that the market is a little messy.
There are also a few food stands around the market at the waterfront that sell barbeque fish with rice and plantain during the day. It is cheap and filling!
Cool off with real Acai
I was not a big fan of Acai before coming to the Amazon. When I had tried Acai in Europe I always felt like it was overpriced for what it was.
But when I tried Acai in Leticia I loved it! The acai here was so much richer than what I had tried before 🤤
You will probably realize that most of the Acai you have tried around the world has been diluted with water or cheaper ingredients. It is such a dark purple color here that it is almost black.
An Acai is a also great way to cool down in Leticia with a fairly healthy snack. We found a cart on the side of the road that sells awesome Acai. I couldn't find it on Google Maps but you can look at this location to see if it is still there.
Fun Fact: The best Acai bowl we had outside the Amazon was at a Kiwi Cafe called Little Fern in Barcelona! 🇪🇸
Read also: How to eat healthy and cheap while traveling 🥑
Where to stay: Leticia Hostels
Hostel La Esperanza
If you are looking for a private room with AC I can highly recommend Hostal La Esperanza, Leticia.
Rooms are only 20 USD per night and come with AC which is quite important when staying in Leticia. The hostel is run by a really nice family as well.
The hostel is about a 20-minute walk from downtown Leticia. But there are many tuk-tuks around that will take you for 5,000 pesos (1 USD) everywhere.
Hostel Tambo
If you are traveling solo and want to stay in a dorm then I can recommend Hostel Tambo. They have clean modern dorms for about 12 USD per night.
The hostel has a well-equipped kitchen, nice common areas, and fans for every bed. It is also well located just a few minutes walk from the town center.
Read also: How to get free accommodation for travel 🏠
Is Leticia, Colombia Safe?
Leticia felt very safe while we were in town. It is much safer than all the bigger cities we visited in Colombia so you do not need to worry about your safety.
Read also: Best health insurance for digital nomads ✈️
What to Pack for Leticia
What you don't need to bring
Boots – we saw a few people with brand-new rubber boots on our plane that they had bought for the Amazon. Our tour guides just gave us boots so there is no reason to buy them.
Headlamp – some people bring a headlamp for night tours. But our guide also gave us one.
Towel – we always travel with a fast-drying one but all budget accommodations we stayed at provided them. Check when booking.
Now you are ready for your trip to Leticia, Colombia!
In my opinion, visiting Leticia is an underrated place to visit in Colombia. The Amazon is an amazing part of Colombia that I think is a must-visit.
You will feel like you are in a different country (or world) and will have the chance to have so many amazing and unique experiences.
If you visit Leticia let me know in the comments below what you thought of it. Also, let me know if you saw the bird show and how amazing it was!
Make sure you read our other articles about Colombia as well 💛
Hey there! Some of the links on this page are affiliate links. This means that if you choose to make a purchase we may get a small commission at no extra cost to you. These commissions help us to generate income and keep creating content for you. So we greatly appreciate your support! Thanks!