Mount Saint Catherine Grenada: An Adventurous Jungle Hike
Mount Saint Catherine is the highest point in Grenada and is covered in thick jungle. It's not easy to get up there but the 360° view over the Caribbean island is rewarding.
So if you are looking for an adventurous hike then Mt St Catherine is a great option. We will cover everything you need to know in this blog post and share our experience!
Where is Mount Saint Catherine located in Grenada?
Mt St Catherine is located in the Mount St Catherine Forest Reserve in the parish of St Marks in the northern part of Grenada. It's close to the Golden Falls, another adventurous attraction in Grenada.
Mount St Catherine is the largest mountain in Grenada and with 840m (2,760 ft) also its highest point. It is an extinct volcano as many of the mountaintops in Grenada are 🌋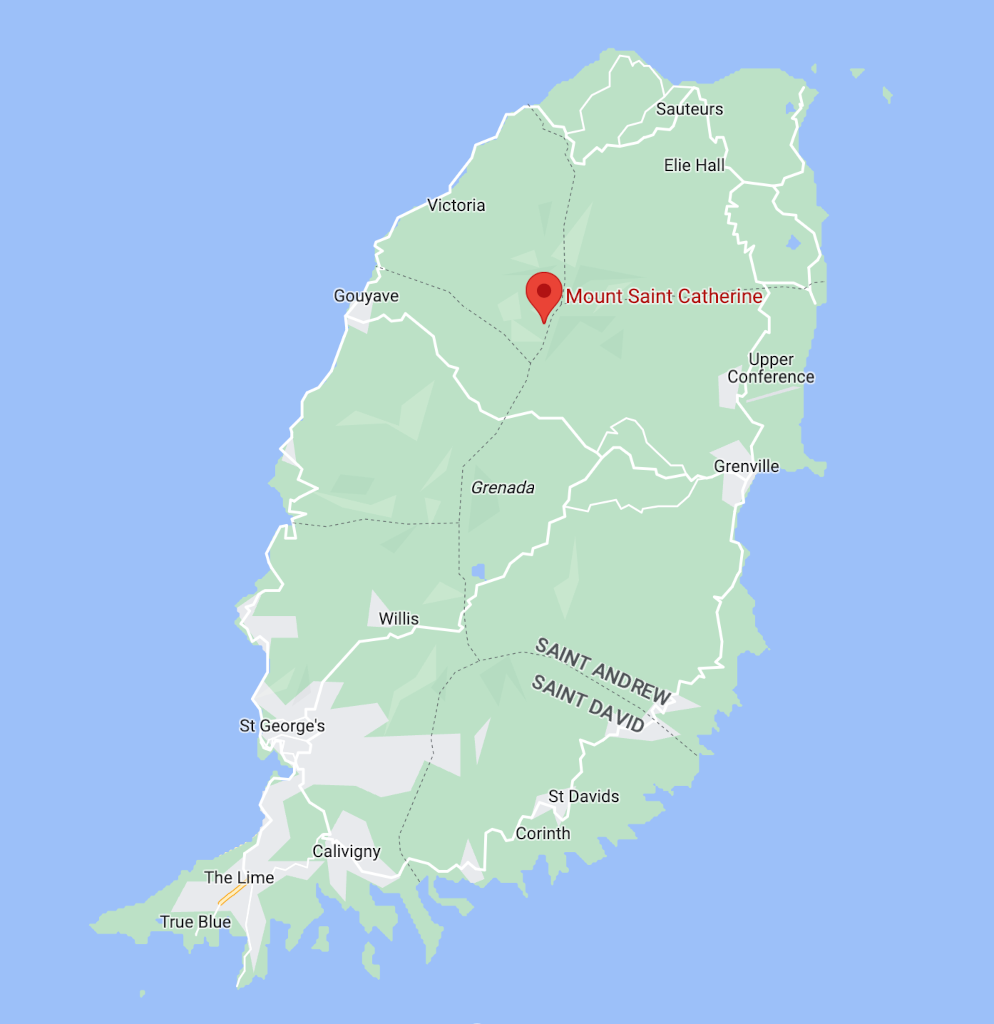 Why hike Mount Saint Catherine in Grenada?
Since Mt St Catherine is the highest point in Grenada you will see Grenada's east and west coast! If you get to the top on a clear day you will be greeted with 360° views of the coasts and towns around.
But on most days the summit is covered in clouds meaning you won't see anything which happened to us the first time we went on this hike. Not recommended.
Only do the hike on a clear day when you can see the summit from the bottom ☀️
What to expect on the Mount St Catherine hike?
When we were first deciding whether to do the hike a review we read said "A machete may be useful". We thought this was just someone being dramatic but it turned out they were dead serious!
The path to the top is very overgrown so do not expect an easy stroll through the bush! The routes to the top are very rugged and you will need appropriate shoes and clothing.
Expect to get muddy and to get onto your knees or slide down at certain parts. You will also need to be able to hold on to some ropes or roots while climbing up and down for stabilization.
It's a muddy adventure through a thick jungle but we really enjoyed it! 🐒
What to bring on the hike?
The things listed may sound overly careful for some, but trust us, you will need them! We went up with shorts and no insect repellent and regretted that very quickly.
The paths to the top of Mt St Catherine are overgrown with mosquitos at some parts so covering up and having repellent will be useful. Otherwise, you will end up with scratched and itchy legs like us!
How long will the hike take?
The hike up Mount Saint Catherine will take around 5 hours in total. It will be very humid so make sure to bring enough water. We travel with this reusable 1-liter bottle that is perfect for hiking.
The climb is also very steep at the end so make sure you bring some healthy snacks to the top as you will need to refuel before heading down.
Read also: How to stay fit while traveling (cheap & fun!) 💪
Mount St Catherine Hike Starting Point
There are three paths to get to the top of Mount Saint Catherine. They are all quite rugged and will take you on narrow tracks through the jungle that will be very muddy and slippery at points.
The path we took started in the hills near Grenville which is the second largest city in Grenada. The starting point is marked on the map below and you can also pin the location on google maps.
You will need to drive to Mount Horne Road and find a space on the side of the road to park your car as soon as the gravel starts.
You can technically drive further to shorten the hike. But the road is in bad condition and gets quite steep so you would need a 4WD drive.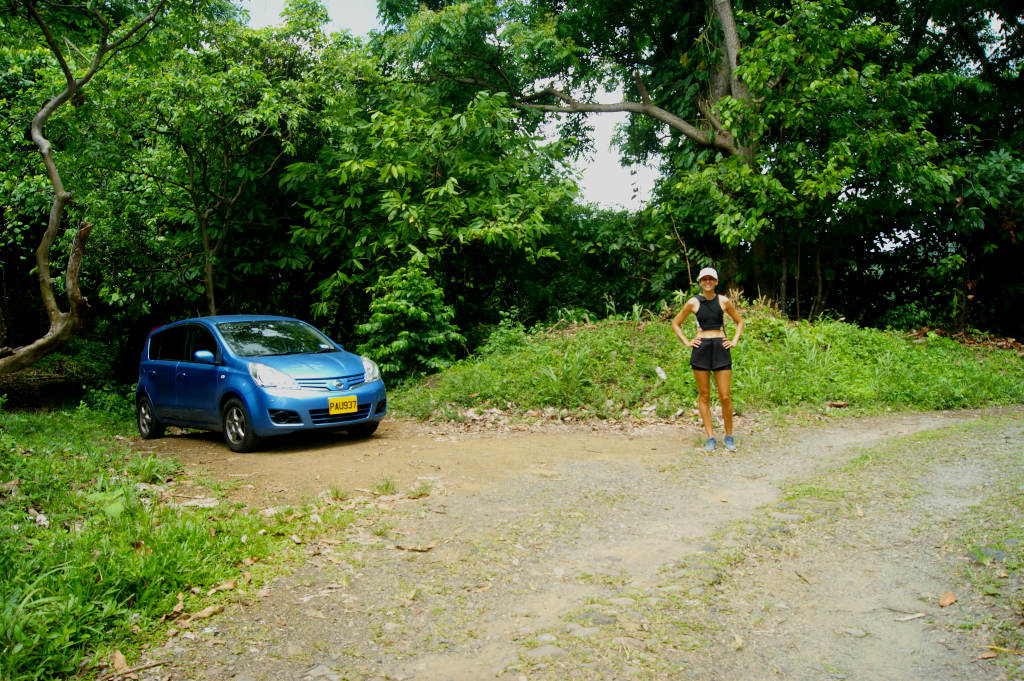 1. Hike up the road to Mount St Catherine
If you start the hike where we did near the start of Mount Horne Road then you will be following a road for about 30-45 minutes. It is a nice quiet walk through lush green hills and farmland.
The road becomes steep after about 10 minutes and this climb will continue for quite a long time. So be ready to sweat! 🥵
You will also see many different types of trees and plants such as nutmeg and mango so keep your eyes open. And say hi to the cows and goats on the way.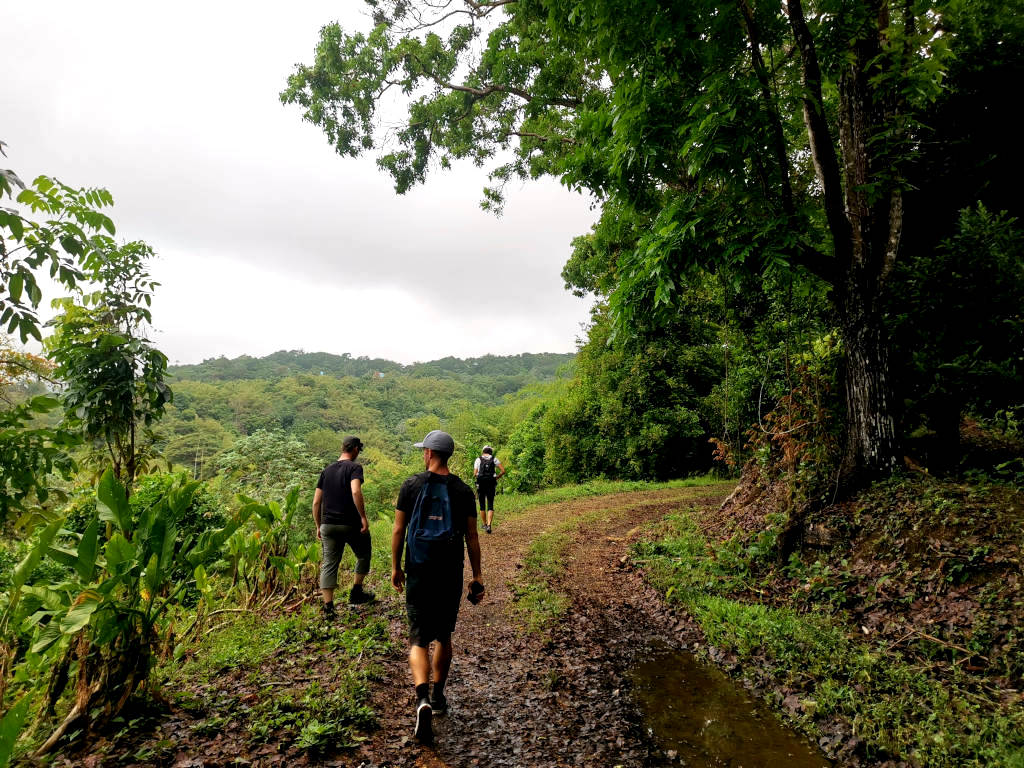 Once you start getting towards the end of the road it will start getting narrower. There is also a high chance that you will come across some fallen trees. Because the path is not regularly maintained you will probably have to go under or around them. But it is all part of the fun!
2. Enter the jungle
Once you get near the end of the road it will become narrower and narrower until it is just a small dirt path through a thick jungle.
Because the path is not maintained from this point on you will have to push your legs through lots of shrubs and bushes. So if you have sensitive skin expect to get itchy.
That is why I recommend wearing long pants and long sleeves because you cannot avoid rubbing against the vegetation. But choose wisely because it's humid!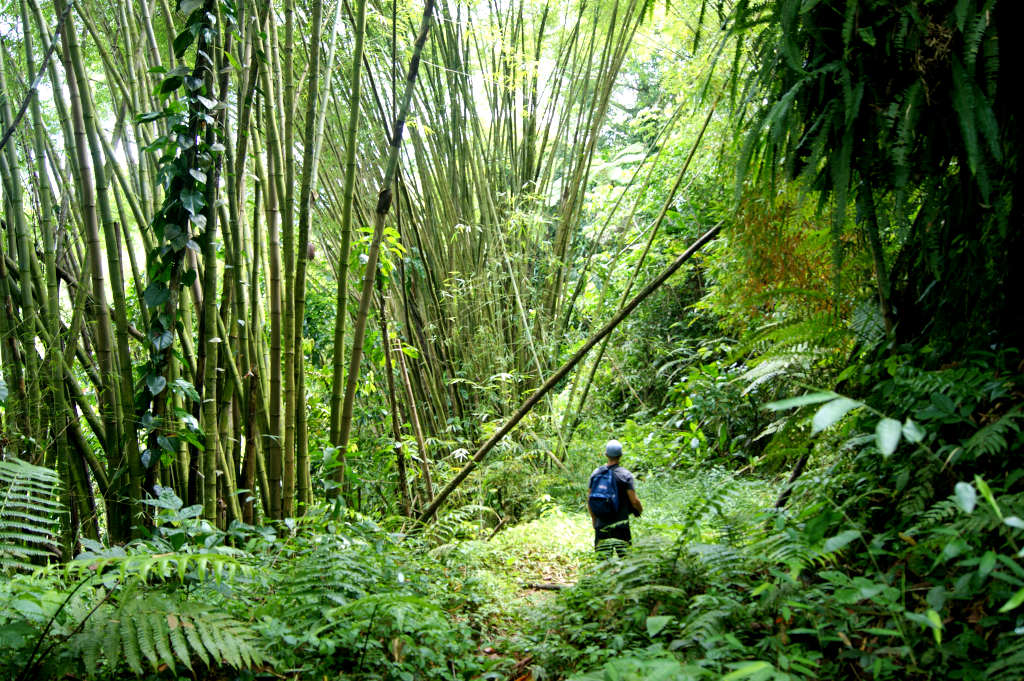 In this area where the path becomes very narrow, it also starts to get muddy and slippery. Especially if it has rained recently so try and avoid it if it has rained the day before.
One advantage of the path being so narrow is that you really feel like you are in the jungle. The vegetation is so thick and we saw a lot of millipedes and interesting-looking flowers.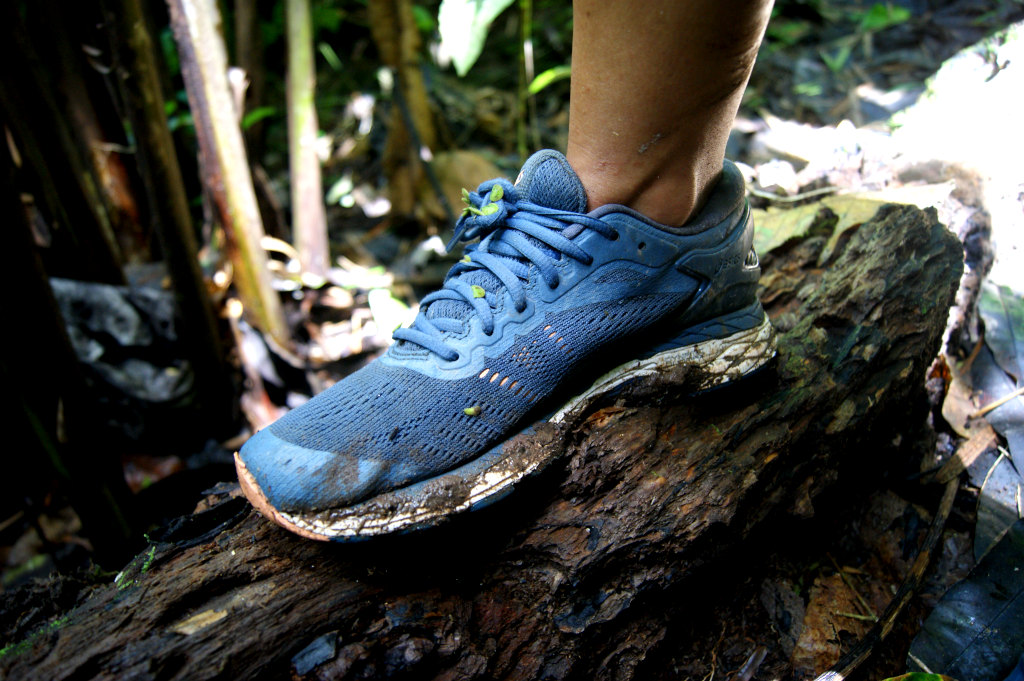 The path will wind its way through the thick jungle for about 45 minutes. In this section, there may be some parts overgrown so you have to keep an eye open for the path.
If there have been some storms recently there is a chance there could be more fallen trees on the way. So be prepared to climb under or over some trees.
3. Climb up Mt St Catherine
After walking through the jungle it will get much steeper. From this point on it will be a steep climb until you reach to summit. This part takes around 1 hour depending on how fast you climb.
In sections, you have to use tree roots and branches to climb up as it will get very steep. Make sure that you have both hands free as it is easy to sleep and you need to be ready to grab onto something.
The further up the climb you get it will get muddier and more slippery. So make sure that you grab onto roots and branches to avoid falling.
It may feel like it will be impossible to get down. But we found it even easier going down because you could just slide down on your butt and get muddy.
Eventually, you will break through the trees and get awesome views over the surrounding hills and countryside. If it is a cloudy day you may not see anything, however.
We did the hike twice and the first time we turned around here because we were in the middle of clouds and couldn't see anything 🙈
There will also be a rope to help you cross an exposed section. After the first rope, you will then have some more muddy steep climbs and two more rope climbs before reaching the summit.
4. Reach the Summit of Mount Saint Catherine Grenada & Enjoy the View!
After the rope climbs there will still be some more muddy steep climbs for about 30 minutes. Then you will get a view of the antenna on the summit and you are nearly there!
You will have to push through some scraggly bush that will really scratch you if you aren't covered up. Also, be careful at narrow parts as if goes straight down and enjoy every view you get on the way.
Once you make it to the top of Mount Saint Catherina Grenada you will have some awesome 360° views over the island if you have a clear day.
There is a grassed area next to the antenna around the top that is not particularly pretty but great to chill and refuel before you make your descent.
Unfortunately, clouds rolled in while we were climbing so our pictures don't do justice!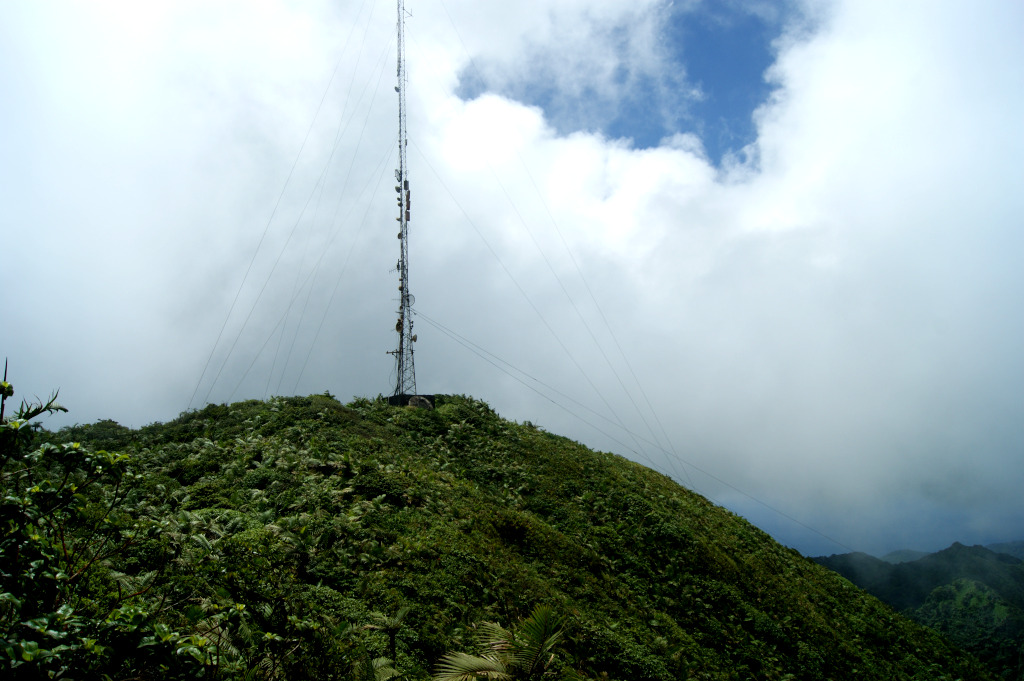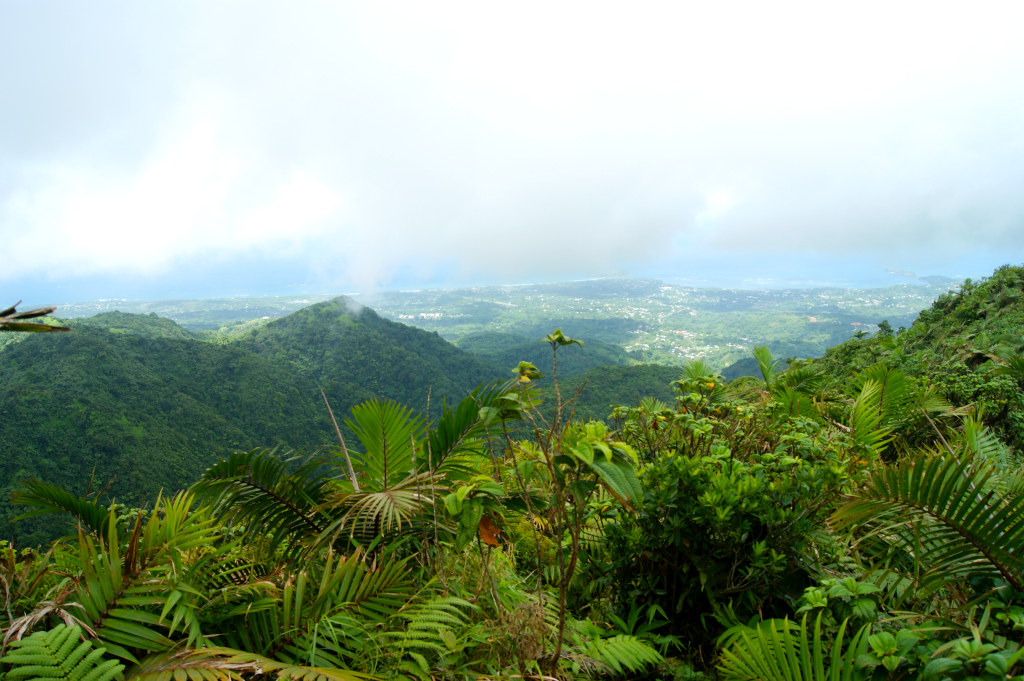 5. Descent from the highest mountain in Grenada
You can either hike all the way back to where you came from (what we did) or follow a path on the opposite side of the summit that apparently leads down to Victoria on the west coast of Grenada.
You can look for some alternative route descriptions on Wikiloc here. Just remember to recover properly before you make your way down as it will be very slippery.
Read also: Hike up Mount Qua Qua in Grand Etang NP 🌳
Now you know how to hike Mount Saint Catherine Grenada
The Mount St Catherine hike is for sure no easy stroll in nature. Expect to get muddy, sweaty, and tired. But it is a great experience and you will feel an accomplishment when you make it to the top.
Are you ready? If you end up doing the hike, have anything to add or have any questions let us know in the comments below!
READ ALSO